Review: Kitty Steals the Show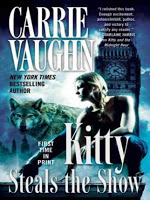 Amazon
In Carrie Vaughn's last Kitty Norville book, KITTY'S BIG TROUBLE (EBR Review), she raises the stakes (ahem, no pun intended) regarding Kitty's dealings with the vampire Roman. In the next installment KITTY STEALS THE SHOW (Amazon), we come to understand that his plans are big and his reach is even bigger.
Kitty has been invited to be a keynote speaker at the first ever Paranormal Conference in London. Scientists, lawyers, doctors, and paranormals themselves are not only presenters but attending the historic conference. Well, and a group of protesters, too. Of course.

Her vampire ally Alette sends her to stay with a friend, Ned. Despite the unassuming name, he is the master vamp in London, and he's got his fingers in everything from the cops to Parliament. Fortunately he's the good guy. While there, Kitty meets Caleb, the Alpha for the entire British Isles, a concept she'd never before conceived: a werewolf pack that extends beyond city borders, working with each other in solidarity.
But in true Kitty fashion, her mouth gets her into all sorts of trouble, and it's just so much fun to see the fireworks. Unfortunately, the fireworks are flammable and dangerous and when she confronts the master vampires in town for the conference, she stirs things up a little too much.
Vaughn has done great with the progression of our three main characters: Kitty, Ben, and Cormac. Their evolution is engaging, and I particularly enjoy their interactions with each other. There is trust, love, and camaraderie that only comes from true friendship. Kitty still struggles with the limitations her life as a werewolf has dealt her, but she's determined to make the lives of other werewolves more livable, even at a danger to herself. It's easy to admire her and see how far she's come in the series. After Cormac's strange reveal of what went on in prison in KITTY GOES TO WAR (EBR Review), we got to read Vaughn's explanation in KITTY'S GREATEST HITS (EBR Review), so the extra from that storyline which we get in STEALS is only more cool. And Ben only gets better (who knew he'd be such great husband material?).
KITTY STEALS THE SHOW and its predecessors. Sure it's a fluffy good-fun series, but it's one of the best fluffy good-fun series out there.
She's also done well building Kitty's world of magic and the paranormal. It's not as detailed as the heavier fare out there, but despite that every book adds a little more interest and we get to see some clever stuff added to the story as a result.
Some of Vaugn's previous novels have been disjointed, but STEALS flows well and quickly, with each event building on the other, leading to an exciting conclusion–with a promise for an even more exciting next installment. Even if you haven't read the previous novels, KITTY STEALS THE SHOW is still worth reading. Sure it's a fluffy good-fun series, but it's one of the best fluffy good-fun series out there.
Recommended Age:

15+

Language:

Less than a handful

Violence:

Some deaths and blood, but not much gore or detail

Sex:

Referenced only