Review: Kitty Rocks the House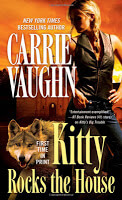 Amazon
After the exciting events of KITTY STEALS THE SHOW (EBR review), Kitty returns home to Denver to get down to the serious business of building a strong base of allies in the war against the vampire Roman and his plan to change the status of vampires among humans.

But even the best-laid plans seem to go awry. The local vampire master Rick–her #1 ally–is approached by a secret sect of Catholic vampire crusaders and contemplates leaving Denver. A new pack member is causing trouble in the ranks. Cormac/Amelia seem determined to be a thorn in Kitty's side in the name of "helping." And even Kitty's own dysfunctional family demand her time and attention. How is she supposed to defeat Roman if she can't even keep her own life under control?
The eleventh book in Carrie Vaughn's Kitty Norville series, KITTY ROCKS THE HOUSE (Amazon) is a continuation of the buildup from the revelation of Kitty's plan to bring down Roman in KITTY'S BIG TROUBLE (EBR review). As a result of it being buildup this particular episode feels like filler, and even though its multiple plot threads resolve, the book felt too short. I want to get to the meat of the overarching conflict with Roman and didn't see the point of these seeming side-stories. I guess we'll have to see if they're relevant in book twelve.
KITTY ROCKS THE HOUSE paves the way for what's coming. A mediocre setup novel. Doesn't ruin my enjoyment of the series, but I'm getting a little impatient.
At this point in the series I'd also have liked to see Kitty be more assertive in her role as pack alpha. In some ways she does show this, but it's inconsistent and she seems whiny. There also isn't enough fallout from Cormac's brash and destructive actions, and Rick seemed more wishy-washy than usual. All these issues made the plot feel forced, which was too bad because the pacing was great. Fortunately Kitty and Ben's relationship is as good as usual and we got to see more of pack dynamics.
A mediocre addition to the series, KITTY ROCKS THE HOUSE really just paves the way for what's coming. It doesn't ruin my enjoyment of the series, but I'm getting impatient for what's coming.
Recommended Age:

14+

Language:

Less than five instances

Violence:

Some blood and fighting, but minor

Sex:

Implied