Review: The Orphans of Raspay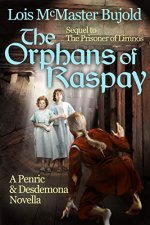 Amazon
Lois McMaster Bujold's delightful series of novellas featuring Penric and his demon Desdemona continues with "The Orphans of Raspay" where Penric becomes hopelessly caught up in the sad situation of two orphan girls. If you haven't read the previous novellas, go check them out, starting with "Penric's Demon" (EBR review), where you'll get my opinion on the Audible reader as well as the low-down on what it means to be a sorcerer with one's own demon.

As seems to always be the case with the Bastard, the god and "master of all disasters out of season", Penric thinks he has one job but finds himself unexpectedly on assignment to another. When his ship is boarded by pirates, he must use his wits to avoid them detecting his sorcerous side. He ends up with a group of potential slaves or those for ransom when he meets two young girls who were on their way to find their father. Their mother has died and seems that she has made a bargain with the Bastard to watch over her children after her death–and he has sent Penric (unbeknownst to him) to make good.
Penric solves this dilemma the only way he can: with cleverness, Desdemona's magic, and a little (or a lot) of chaos. Desdemona is a chaos demon, after all, it wouldn't be as fun without a little craziness. The relationship between Desdemona and Penric has only deepened. It feels like they really know, understand, and appreciate each other. I enjoy their relationship and interactions, and Bujold really makes them fun and sweet. But Penric makes a new relationship with the girls and discovers a paternal side he didn't know he had. First, he must convince the girls that he wants to help, but they're clever girls and haven't survived this far by being silly. Bujold portrays the girls realistically and their interaction with Penric feel genuine.
Penric and Desdemona's adventures continue with THE ORPHANS OF RASPAY where a set of precocious girls enter Penric's life.
There isn't a whole lot of worldbuilding this time around compared to the other stories, although we do get to see a pirate town in action. There isn't much new to the magic, either. Here, "The Orphans of Raspay" is more about relationships and Penric's evolution as a representative of the Bastard. And he wears it well.
Recommended Age:

12+

Language:

None

Violence:

Water-down piratical activity, some peril, some mention of death

Sex:

The children's mother was a prostitute, but otherwise nothing