Review: Penric's Demon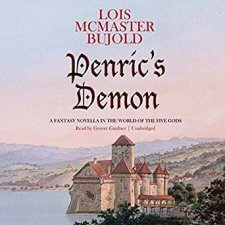 Amazon
PENRIC'S DEMON is the first story in a 6-novella series (so far? hopefully there will be more?) written by the amazing Lois McMaster Bujold. I just finished listening to all six on Audible and I'm here to tell you that they're worth your time, and reader Grover Gardner enhances the story the way a reader should.

In PENRIC'S DEMON (Amazon), we're first introduced to the light-hearted Penric, youngest son of a minor noble family, while on the way to meeting his bride-to-be. En route his caravan comes across other travelers, including, unbeknownst to him, a sorceress who is having a heart attack. If you haven't read Bujold's other novels in the World of the Five Gods, such as PALADIN OF SOULS (one of my very favorite books), then you'll already be familiar with what makes a sorcerer a sorcerer: that the person is a host to a demon. And when the host dies, the demon will jump to the next closest/strongest person. In this case, Penric. And it changes his life forever.
All six novellas are told from Penric's point-of-view (with a second character narrator added to the last three novellas), and reader Grover Gardner believably conveys Penric's sometimes manic, sometimes crazy, but often clever approach to the difficult situations in which he finds himself. Bujold's characterization is excellent, as usual, and watching how she has Penric approach the chaos caused by being demon ridden is entertaining and fun to read. Along the way we're introduced to Locator Oswyl, Shaman Inglis, and siblings Arisaydia and Nikys.
And, of course, Desdemona herself. Or, her twelves selves, having lived 200 years so far, so has worked her way through twelve different hosts. Usually a sorcerer is trained at the temple to prepare for eventually hosting a demon, but Penric gains his demon by chance, and the result is an uncoventional attitude toward demon-host relationships. Apparently, no other host had named the demon, but Penric felt like it was necessary. It makes one think that the relationship between Penric and Desdemona is unique, and this happy balance creates a synergy that means Pen/Des are able to solve problems that would stump most other people (even most other sorcerers, as we witness in a couple of the stories).
As the series progresses we learn more about what it means to be a sorcerer. It doesn't mean all-powerful, and they're the victims of misinformation and prejudice. We learn about the chaotic magic and the price it requires. But we also learn about how being a sorcerer suits Penric much more than his old life would have given him, and it's fun to watch as he grows with each story into his own man–with Desdemona's help.
Lois McMaster Bujold brings us more stories from the world of the five gods with the good-humored Penric and his novel approach to being a sorcerer.
Bujold's World of the Five Gods is pretty well-established by this point, considering her other novels in this world. Having read those other novels gives you a sense of the setting, but it isn't necessary going into the Penric and Desdemona stories. Bujold's worldbuilding is seamlessly built into the characters and story, so it doesn't feel tacked on, and instead is absorbed during the storytelling. The magic of demons isn't complicated, but there are so many possibilities (as well as moral issues) to be explored, and Bujold doesn't shrink from them. There's a fair amount of traveling across landscapes througout the series, but these don't burden the stories and instead help us to understand the characters better. The novella format gives the stories a series of focused storylines that are easily consumable over a handful of hours each.
Bujold's Penric and Desdemona series is clever, entertaining, and thought provoking as it explores relationships (which are often complicated), a life's purpose, and how love is never shown perfectly but we should appreciate it for what it is.
Recommended Age:

14+

Language:

Almost none in the entire series

Violence:

Here and there in most of the series; Penric often finds himself in peril, but fighting details are limited; some torture in PENRIC'S MISSION

Sex:

Referenced
Please note that the publication order isn't necessarily the order you should read these books. Above is the recommended reading (or listening) order.