Review: Belle Chasse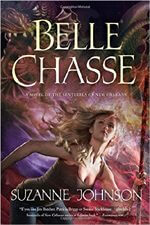 Amazon
I'm not sure if DJ can handle much more of this. I'm not sure I can handle much more of this. Seriously this woman needs to get her life back in order. Too bad it's her sense of loyalty to her friends that her boss can't seem to appreciate. Fortunately, she's chosen well in her friends, because they may be all she has between her and those trying to kill her.
DJ has found herself on the run after the events of PIRATE'S ALLEY, her own wizard First Elder has determined her a criminal for simply wanting to protect her best friend, Eugeine. Fortunately her friend, the undead pirate Jean Lafitte, is harboring the fugitive and Eugeine at his home in Old Barataria. The result is a lot of sneaking around if DJ wants to figure out how to solve her current problem.

Now DJ must try to smooth things over with the new First Elder Zrakovi, help Eugenie's pregnancy, deal with a controlling elven bond-mate Rand, and somehow find a way to connect with the man she loves, Alex. Unfortunately, nothing goes to plan, because DJ's straightforward solutions to her problems often end her in deeper waters.
You can't help but love DJ. She just wants to do the right thing, and can't understand why her own boss would give her orders to hurt someone she loves–and then sentence her to prison for not following orders, a prison that would effectively kill her. Her loyalty is endearing. I enjoy seeing her friends through her eyes: the reliable Rene, the saucy and scheming Jean, the sweet Eugenie, and the kind and good Jake. She loves her friends. Alex doesn't make much of an appearance in BELLE CHASSE, but the deeper relationship DJ develops with her friends seems to be worth it. And, it seems, that this time around her own family will come through for her as we meet new character, cousin Audrey. Even her enemies are given the benefit of the doubt, at least until they can truly prove themselves her enemy–but her hesitance will cost her dearly.
Johnson continues to give us the setting details we enjoyed in the first books, along with the local color, weather, and landmarks of New Orleans. While DJ spends much of her time on in the historic-undead city of Old Orleans and specifically Jean's mansion, Johnson uses the local flavor to good effect. We see a second-line parade that benefits DJ, the warehouses of mardi gras floats, and a hurricane, among others. We're also treated to more details on the wizard magic and how it's lost when turned vampire, a faery prince who uses computers to make his winter magic, and the convenience and inconveniences of portals. DJ's resources are limited, but she uses what she has to great effect, and the thwarting of her overbearing boss.
Seriously this woman needs to get her life in order. Fortunately, she's chosen her friends well, as they may be all that stands between her and death.
BELLE CHASSE is a fun book, the prose is great and the pacing consistent; but the only real pitfall is that it's a transitional story, where sure the stake are high, but not much is truly resolved. DJ does a bunch of running around and putting out fires, trying to get control of the situation, but still plenty of bad things happen. Johnson does her best to make Zrakovi a credible villain, but we see so little of him and most commentary comes from DJ's thought process that it's hard to feel like we really understand his motivations. These problems don't weigh down the story, however, because we're most interested in how DJ works to overcome her problems.
Fortunately, BELLE CHASSE is not the last book in the series, and all it's done is built up readers for what comes next. I can't wait.
Recommended Age:

15+

Language:

A smattering

Violence:

While not particularly bloody, there is peril and death

Sex:

Yes, but without detail