Review: Royal Street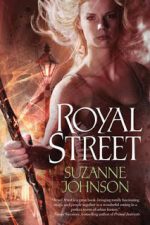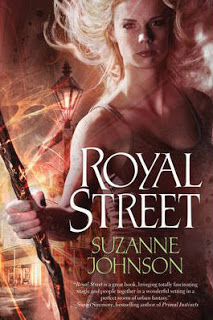 This past April I visited New Orleans for the first time. As a tourist I saw all the sites: the French Quarter, walked Magazine Street, St. Louis Cemetery #1. One morning I took a walking tour hosted by a local, and he talked about the history of New Orleans and its inhabitants. We all had a good time. Then he talked about hurricane Katrina and everyone went quiet. He had lived it and survived to tell the tale.
So did Suzanne Johnson, and while ROYAL STREET (Amazon) is your typical Urban Fantasy, she handles the Katrina angle with the reverence it deserves, thereby adding with fascinating detail a compelling setting.

The story starts with our plucky heroine DJ (short for Drusilla Jane), who feels like her wizardly training has progressed enough for her to tackle the more complicated jobs sending back those who come across from the Beyond: like vampires, old gods, and even the occasional historical undead. But before she can get any headway with the local sentinel/mentor Gerry, Katrina starts heading their way and she is forced to evacuate and wait out the storm.
But then Gerry disappears and the Elders send her back to New Orleans to repair the surge of rifts caused by Katrina. Fortunately they send help in the form of handsome Alex Warin, whose preference for the use of force frustrates DJ. Alex's cousin Jacob–a bar owner in the French Quarter–rounds out the love triangle.
ROYAL STREET is DJ's story about being a magical sentinel in post-Katrina New Orleans. Great pacing, interesting magic, and a main character to cheer for.
Johnson paces ROYAL STREET well, from page one clear until the end, tying the events and characters together deftly. The opening scene isn't a mere throwaway to introduce our heroine. Characters we meet along the way matter to the story–even the seemingly random dog. It's not simply a string of events, and by the time we reach the exciting climax we've already connected the dots and are ready to watch DJ fix the problem.
DJ herself is unlike most kick butt Urban Fantasy heroines. Sure she's a wizard, but her style of magic (green congress wizard) requires incantations and time, unlike her mentor Gerry whose physical magic (red congress wizard) packs more punch. She doesn't know how to fight or even handle a gun. But she can make a nasty smoke bomb in a pinch. She learns to come to grips with the danger of her situation and the new responsibilities given to her and does the best she can.
The magic is interesting as well as the explanation as to why wizards must keep tabs on those magical beings who cross over from Beyond. New Orleans is a popular setting for Urban Fantasy magic and mayhem as a result of its vibrant history. But the reality of living with Katrina and the havoc it caused really add a nice flair to the story–especially since Johnson is a native. She gives a good sense of the city, its flavor, and what the city itself means to those who lived through the hurricane.
Recommended Age:

16+

Language:

A handful of mild references

Violence:

Fighting and blood, with minor gore

Sex:

A couple of steamy moments but otherwise only referenced