Review: The Family Plot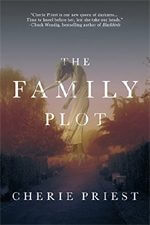 Amazon
Cherie Priest has written YA steampunk (BONESHAKER — EBR review), zombie fiction (MAPLECROFT — EBR review), historical horror (WINGS OF THE KINGDOM — Amazon), and Urban Fantasy (HELLBENT — Amazon). Now she takes on… the salvage business? I admit, I'm a fan of the TV show Salvage Dawgs, and it turns out Priest is, too, because of course people who tear down old houses for a living must run into ghosts now and again. This time, however, the salvage crew of Music City Salvage run into a poltergeist with a vendetta.
Dahlia is heading up this salvage operation for an old Victorian that's slated to be demolished. When she arrives she sees a house that's been neglected, but should be fixed back to its former glory. Unfortunately its owner can't get rid of the house fast enough. Dahlia and her crew have a week to get their money's worth out of the house, or else the family business may go under. The pressure is on Dahlia to get her cousin Bobby to cooperate despite his well-known laziness, Bobby's son Gabe and new employee Brad up to speed in a kind of work they're not used to.
It doesn't help that not long after they arrive at the estate, they start seeing ghosts.

THE FAMILY PLOT by Cherie Priest is her most recent release and I'm guessing Priest just had loads of fun writing this one. It's nothing fancy, nor will it end up on top many lists as a 'best of' book, but it was definitely an entertaining read. The prose is simple and makes for a book that was quick to finish in just a couple of sittings. And with Priest being an experienced author, the story moves at a good pace, with enough detail to keep us engaged.
Cherie Priest has written YA steampunk, zombie fiction, historical horror, and Urban Fantasy. Now in THE FAMILY PLOT she takes on... the salvage business?
Dahlia is our recently divorced heroine who must prove her mettle as she runs the family salvage business' most recent project. As a woman in charge of three guys, she works as hard as they do, and takes on the burden of knowing that not succeeding would mean the end of Music City Salvage. It doesn't help that her ex-husband is cousin Bobby's best friend, Gabe is just a kid, and Brad is more hipster than construction worker. But she's determined to get the job done. The other characters help to round out the storytelling, even if they aren't PoV narrators. Priest's characters are easy to like, despite their foibles, and they feel like real people. She even helps us to understand the characters who aren't even alive.
The haunting starts out simple enough, but eventually turns into a full-blown mystery as they try to figure out what really happened–because this ghost is no wallflower, and wants attention in not very nice ways. They eventually figure out that the ghost is Abigail, a woman who lived and died around WWI; but there's a man in uniform who shows up, as well as a boy. Everyone in the crew gets spooked, and they start out wary, but Abigail won't leave it at that, and goes all out to get Dahlia to understand. As ghost books go, THE FAMILY PLOT is pretty typical stuff, clear to the exciting and bloody end. But with October almost upon us, it's the perfect time of year to pick up a book that gives you enough mystery and scares to leave a smile on your face by the end.
Recommended Age:

14+

Language:

A fair amount (several uses of the harder variety per chapter)

Violence:

Typical horror peril; until things go sideways at the end

Sex:

Vague reference to lovers