Book Author ::
Cherie Priest
Review
The Family Plot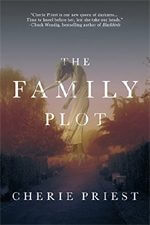 Cherie Priest has written YA steampunk (BONESHAKER — EBR review), zombie fiction (MAPLECROFT — EBR review), historical horror (WINGS OF THE KINGDOM — Amazon), and Urban Fantasy (HELLBENT — Amazon). Now she takes on… the salvage business? I admit, I'm a fan of the TV show Salvage Dawgs, and it turns out Priest is, too, because of course people who tear down old houses for a living must run into ghosts now and again. This time, however, the salvage crew of Music City Salvage run into a poltergeist with a vendetta.
Dahlia is heading up this salvage operation for an old Victorian that's slated to be demolished. When she arrives she sees a house that's been neglected, but should be fixed back to its former glory. Unfortunately its owner can't get rid of the house fast enough. Dahlia and her crew have a week to get their money's worth out of the house, or else the family business may go under. The pressure is on Dahlia to get her cousin Bobby to cooperate despite his well-known laziness, Bobby's son Gabe and new employee Brad up to speed in a kind of work they're not used to.
It doesn't help that not long after they arrive at the estate, they start seeing ghosts.
Read the rest of this review »
Review
Maplecroft: The Borden Dispatches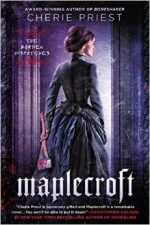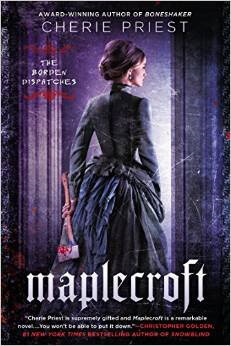 Lizzie Borden is the town pariah of Fall River because she's suspected of hacking her father and stepmother to death with an axe. Certainly she was acquitted at trial, but there's more to the story than anyone knows. Well… her sister Emma knows, but she's not telling. And together with their inheritance from their father, they buy a house outside of town, name it Maplecroft, and begin to research in privacy to discover what really happened.
Cherie Priest takes the original Lizzie Borden story (Wikipedia) and presents to us a alternate explanation of their parents' deaths. What if the illness the Bordens experienced wasn't simple food poisoning? What if it were something much more sinister? What if it were related to their deaths?
Read the rest of this review »
Review
Boneshaker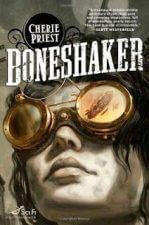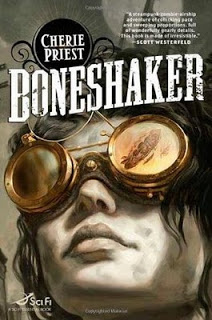 Steampunk. You can hardly go wrong with it. It's that genre that is filled with airships, goggles and adventure. With the novel BONESHAKER (Amazon), Cherie Priest tries her hand at the steampunk genre.
We had heard a lot about this novel. Authors, editors, and readers everywhere called it amazing. We had heard it called one of the best steampunk novels ever written. Do you see where this is going? Yeah. We were let down. WAY down.
Read the rest of this review »