Review: Vendetta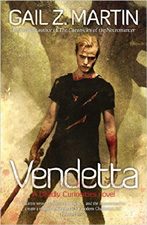 Amazon
Cassidy has magic: the emotion and events in which items are involved give them a history she can see. Her friend and co-worker Teag uses his magic to weave power into fabric or other items. They are employed by the vampire Sorren and are part of a larger magical community of good guys called the Alliance. Cassidy and Teag's job is to find magical items they encounter during their work as antiques dealers in the heart of Charleston and take care of the dangerous items. Of course the nature of their work means they sometimes go up against some nasty things.
Sorren has been around for about 600 years and as a result of his work has made his share of enemies. And after a strange series of events where Charleston ghosts are acting strange and random people are disappearing, Cassidy and Teag begin to think that an old nemesis of Sorren's may be the culprit.

But figuring out this mystery isn't so straightforward because the pieces don't obviously connect. Cassidy does a lot of running around before the pieces start fitting together. We meet all the local paranormal experts, including Voodoo, witches, a necromancer, a medium, a Christian priest, and etc. Along the way we get to see more about Cassidy's magic and what it can do because she runs into demons that want her out of the picture.
Unfortunately, VENDETTA gets infodumpy about all the people we meet a long the way, as well as with the background to the different Charleston locales Cassidy visits. Even though it's different people and places, Martin's approach feels like a travelogue, like she's filling out a template each time describing a person/place.  Another problem is the repetition and circular events, which felt like added fluff until Cassidy could figure out what's going on and come up with a game plan. Even the fight scenes were repetitive and basic. As a result it became a chore to get past all the stuff that felt like "duh, we've been over this before" before we finally got into the resolving action at the end of the novel.
VENDETTA's prose is straightforward, and the plot pretty predictable, but the characters make the story worth reading poolside this summer.
The redeeming factor in this book is Cassidy, herself, who loves her city and her friends. She understands the danger of her career path, but is willing to face its problems if it means protecting the people and city she loves–in fact a big part of the book are the people and their relationships with each other. She has gathered a cadre of friends whose skills all have their different strengths, which only makes them a stronger force as a result. She appreciates them all for who they are and it's easy to see why they like Cassidy, as well. And it's their different abilities that gives flavor to the magic of the series.
The prose is straightforward, as the plot is pretty predictable, but the characters make the story worth reading poolside this summer.
Recommended Age:

14+

Language:

Less than a dozen instances

Violence:

Several battle scenes with some blood and gore, but actually relatively sterile

Sex:

None