Review: Last First Snow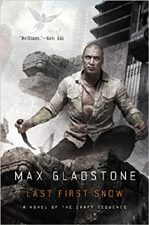 Amazon
It's no secret that we love Max Gladstone around here. His debut novel, THREE PARTS DEAD (EBR review), was refreshingly creative with his unique approach to magic and the laws that bind it. Since then he's produced consistently excellent stuff, books worth your time for their interesting characters, fascinating settings, and exciting stories. I really enjoyed TWO SERPENTS RISE (EBR review) with the intriguing main character Caleb and the creative ways he solved his problems.
LAST FIRST SNOW (Amazon) is the prequel to TWO SERPENTS RISE, about events several decades earlier when the city was in an uproar and the skeletal King in Red had to put down a rebellion that included Caleb's father Temoc.

In SERPENTS Temoc is seen from Caleb's point of view as a father who chose religion over his family and broke the laws of the city–a fanatic and leader of religious terrorists. Now we get to see what really happened and it changes much of my first impressions of Temoc in SERPENTS.
Dresediel Lex is a desert city that millions of inhabitants call home. In SERPENTS the city took more center stage, but here in SNOW while it plays an important role, the plot surrounds the city slums–the Skittersill–and the inhabitants who refuse to leave despite the better lives they could have when the King in Red and local businessman Tan Batac could replace it with more livable buildings. Enter Elayne (you would recognize her from THREE PARTS DEAD), the Craftswoman who represents the King and Batac to help them with all the legal work involved. She convinces them to make a deal with the Skittersill inhabitants instead of evicting them wholesale–which would lead to revolts and probably a lot of deaths.
Of course, nothing goes right and it's up to Elayne to try to fix this wretched mess; which proves to be particularly hard considering how bloodthirsty her clients can be. Temoc has the same problem with the Skittersill residents, whose distrust of government and big business seems to be justified. Neither want fighting, but it appears inevitable.
LAST FIRST SNOW has gods, magic, giant pyramind buildings, a skeletal king, slums, and uprisings. Gladstone's writing is exciting, clever, and thoughtful.
This story takes a while for Gladstone to tell. It's not unusual for him to make the first quarter of the book so dense you'd almost have to read it twice to catch everything you've missed. Here instead he drags out the story and it takes much longer for it to build up with its themes of the little guy verses The Man. Personally, I found the story boring. Perhaps my problem was my inability to be invested in the main characters, Temoc and Elayne. Despite having met Elayne already in SERPENTS I still had trouble getting beyond her professional and know-it-all character. Sure she seems realistic and wants to do the right thing, but I had a hard time connecting with her. I had the same trouble with Temoc–he's not so different from Elayne, except he makes decisions that really don't help his cause. Compare this book's experience with Caleb from SERPENTS who is a character that's stayed with me, he's easily in my top dozen favorite book characters. Maybe my boredom with SNOW's plot was at fault. Or maybe I was bored with the plot because I couldn't connect with the characters. This could be my fault, but SNOW felt like Gladstone was going through the motions and didn't have the passion for the story.
One cool thing about SNOW is that we see more of the magic of the Craft and how it was powerful enough to put down the gods in the first place. The King in Red and Elayne really shine here with the sheer power of their abilities–but we still understand what fuels it and the Craft's limitations. And of course Gladstone's beautiful prose is in top form, as always.
In all the book was interesting more for the lore than the telling of a background story mentioned in a previous book. But if you're just getting started with Gladstone, I'd start with THREE PARTS DEAD (EBR Review).
Recommended Age:

15+

Language:

A few instances

Violence:

There's a fair amount of fighting and bloodiness

Sex:

Referenced and brief scenes