Review: Deadman's Road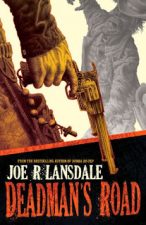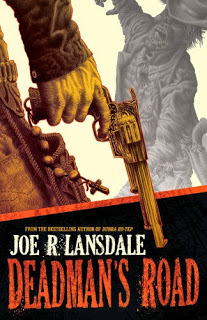 Amazon
Does this look familiar? It should. I originally posted this review back in 2010. So why am I redirecting you to it now? Well, because this awesome collection can be purchased with ease now, and without murdering your wallet, from Tachyon Publications. This is the collection I recommend to everyone who is new to Joe R. Lansdale, because I loved it so much when I first read it in 2010. So anywho, here is the review for any of you who missed it the first time around.

I like supernatural stuff. I like the Old West. It doesn't take a genius to see that I really like supernatural stuff in the Old West. DEADMAN'S ROAD (Amazon), by Joe Lansdale, nicely fills that niche. In short, this collection of short stories and a novella make for pure entertainment.
The stories in this collection star Reverend Jebidiah Mercer. He's your typical Old West Reverend… well apart from his alcohol addiction, gunslinger skills, and his penchant for violence. You see, he sees himself as the Lord's Messenger in the Old Testament sense. Wrathful and all that. He is a compelling character that, despite his faults (or perhaps because of them), you love to root for him.
DEADMAN'S ROAD contains the following stories: "Dead in the West", "Deadman's Road", "The Gentleman's Hotel", "The Crawling Sky", and "The Dark Down There".
"Dead in the West" is the novella that introduced the world to the good Reverend. It all has to do with an Indian Curse that leads to a zombie infestation. This story takes up over half of the collection, and it is easily the strongest of all the Reverend's adventures. It is in this story that we see the most character development, and the best story and plot progression. Really, the collection is defined by this story, and it manages to have that pulp quality while still managing to give a light (but distinct, in my opinion) literary flavor.
The remaining tales are all short stories, ridiculously fun, and pack serious punch. "Deadman's Road" deals with a ghoul of sorts. "The Gentleman's Hotel" has ghosts and werewolves. "The Crawling Sky" deals with some bizarre creature thing that wants to kill the Reverend. Lastly, "The Dark Down There" is about a pack of kobolds killing miners with the Reverend teaming up with a 300-pound woman named Flower. While all the stories are awesome, none of them match the strength of the novella "Dead in the West", which has me begging for a TV series and more stories from the Reverend. That being said, "Deadman's Road" and "The Gentleman's Hotel" were my favorites of the shorts.
Looking for supernatural Old West? Look no futher than the brilliant Joe Lansdale in DEADMAN'S ROAD. A collection of short fiction for lovers of horror.
The overall positive this collection brings is Lansdale's pure ability to give the readers an uncompromisable, visceral description of the horrors the Reverend is facing. He describes the grotesque in a way rarely ever seen. Amidst all the horror and supernatural, Lansdale never loses sight of the western flavor of the stories. The Reverend is put into intense, horrific situations that grab you by the head and force your eye-lids open so you get every gut-wrenching detail. It is this near perfect blend of western horror that makes this collection one that should be read by every horror-lover out there.
What an amazing collection…
Recommended Age:

18+

Language:

All sorts

Violence:

This is a seriously grim and grisly collection. Awesome right?

Sex:

Mentioned quite a bit
Quit screwing around and buy this book!
Note 3-5-2014: This collection was my first exposure to Joe Lansdale, and not only has he quickly become one of my favorite authors, but he has changed how I read and write Horror. I had the opportunity just over a month ago to sit down for lunch with Mr. Lansdale, his lovely wife, daughter Kasey, and son Keith. Quite simply, they are one of the nicest, most genuine families I have ever had the pleasure of meeting.