Review: Andromeda's Fall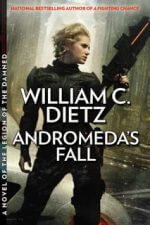 Amazon
Military Science Fiction, oh how I've missed you. In the never ending journey to expand my interests I find that I have neglected my favorite of all genres. The recent release of Halo 4 had me jonesing for a military sci-fi fix. Fortunately, around that time the notorious William C. Dietz asked if I would be interested in reviewing ANDROMEDA'S FALL (Amazon), the latest Legion of the Damned novel.
This marks my first Legion of the Damned novel, and it tells the story of Catherine Carletto, a wealthy socialite. In the blink of an eye Catherine's life is turned upside down when the Emperor's sister makes a bold power grab. In order to consolidate power and excise the threat of rebellion the newly crowned Empress has the dead Emperor's friends and supporters assassinated. Catherine's and her family fall under this category. Orphaned and on the run, Catherine enlists with the Legion under the alias Andromeda McKee.

ANDROMEDA'S FALL is the tenth book in the Legion of the Damned series, though as I understand it is also the beginning of its own mini-arc. A prequel of sorts. I've always wanted to get into the Legion of the Damned series but I just never got around to it. The more books that have been published the more daunting it seems to begin. ANDROMEDA'S FALL strikes me as a middle ground – a good starting point for beginners and a glimpse into the background lore for the fans.
ANDROMEDA'S FALL is very accessible. Though largely military oriented the hardcore jargon is kept to a minimum. I was looking forward to learning about the Legion but ANDROMEDA'S FALL is primarily focused on McKee. Not that I'm complaining. I mostly like McKee as a character. She's a strong woman, a dedicated soldier, and a quick thinker. The transition period between celebrity Carletto and soldier McKee might be a little too smooth. For someone who has lived such a privileged life Catherine Carletto adjusts to life on the run and then life in the military rather well. McKee does express moments of self doubt and sadness however, and these scenes help to flesh out her character.
ANDROMIDA'S FALL is accessible military SF that's full of action and suspense--and awesome battles. A worthy read in more ways than one.
The supporting cast could use some development. Trooper Larkin is a lovable rogue and I find his relationship with McKee to be interesting. I like the way it is handled and I appreciate the fact that Larkin lives in a moral grey area. I do want to see more from the rest of the cast, especially some of the cyborgs. I find the Legion's use of cyborgs fascinating and I would love to learn more about them and catch some more from their perspective.
I like Andromeda McKee and Trooper Larkin well enough but I will be sticking around because of the Legion. I've read about future Marines, future Navy, and future Army plenty. ANDROMEDA'S FALL is the first I have ever read about the future of the French Foreign Legion (Legion etrangere). What a fascinating organization! From the bits and pieces I picked up from this novel I am now hooked on the history of the Legion. I just want to read more. Both the Legion's past and future are highly interesting. I love the use of cyborgs alongside standard infantry. I've seen mechs and power armor in Military Sci-Fi but I like this approach.
ANDROMEDA'S FALL is full of action and suspense. I usually rate one of these novels by how memorable the battles are and two from ANDROMEDA'S FALL are emblazoned in my brain. I can't wait to continue the story of Andromeda McKee (there are definitely sequels on the way) and in the meantime I'll try and grab a few copies of the earlier books.
Recommended Age:

14+

Language:

Some. What do you expect from soldiers?

Violence:

Lots. What do you expect from soldiers?

Sex:

Suggested but nothing vivid
While you're at it you may want to check out the LEGION OF THE DAMNED video game on iPhone and iPad. I bought it a couple days ago and it's a really cool way to round out the ANDROMEDA'S FALL experience. If you enjoy strategy games it will be right up your alley.