Review: Boneyards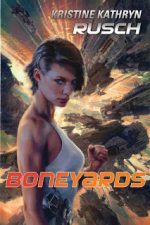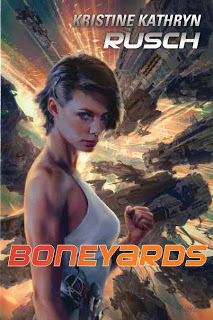 Amazon
One of the very few Science Fiction series I truly enjoy is "Diving" series written by Kristine Kathryn Rusch for Pyr. The series follows the character Boss as she progresses from diving the wrecks of space ships to leading a huge corporation that is focused on controlling the scientific progression of a dangerous version of stealth technology. Why do I like this series so much? I think it mainly boils down to two points. 1) I like the main character, and 2) it is one of the more accessible SF series out there.

The latest entry to the series, BONEYARDS (Amazon), follows on the heels of the prior novel. Boss is helping Coop–the captain of the Dignity Vessel that was thrust 5000 years into the future (Boss' present)–investigate the whereabouts of the Fleet. As I type that out I realize just how important it is for you readers to start this series from the beginning. There simply isn't any way to enjoy this novel without having read the prior two novels, DIVING INTO THE WRECK (EBR Review) and CITY OF RUINS (EBR Review). Without those novels you have no hope of having any real connection to the main character, Boss, or any of her crew.
So, if you haven't read the prior novels stop screwing around and go pick them up. They are awesome.
Anyway. Back to the review.
BONEYARDS is divided up into two separate stories. We have Boss' sections, which are told in 1st Person as usual. Then we also have chunks told in 3rd Person from Squishy, a character you should remember from the prior novels. While Boss is helping Coop, Squishy is off on a solo mission to destroy the Empire's base researching stealth technology.
The Boss sections are fantastic, and are exactly what most readers will be looking forward to. There are moments of internal doubt and weakness that act as a counterpoint to the hard exterior that she wears as a leader of a massive corporation. The Squishy sections, however, will likely be a tad more difficult for readers to enjoy. It isn't that they are bad, because they aren't. Half of Squishy's sections are flashbacks to her life working with the Empire. While they do serve as a window into her head, as a reader I just wasn't as invested in her character as I was in Boss. This made the pacing slow down dramatically, and I found that I would often check ahead to see how much further until the Boss sections.
While I wish the Squishy sections could have been a little more dynamic, they do work well once you get used to her sections. And on the whole the books works really well.
Until the ending.
BONEYARDS is a great novel anyone can enjoy, but understand that when you finish it, it'll feel like half a novel--fortunately there's a sequel.
I distinctly remember looking down at the page number seeing I only had twenty pages left and thinking, "There's no way to wrap this up." Remember, the title of the novel is BONEYARDS. Without spoiling exactly what the Boneyards are in the novel, I feel like I should mention that they never actually spend any time in them. They look at it from the outside, then decide (for various non-spoilery reasons) to go back later. Instead of going into the Boneyards, we get a very quick meeting of the Boss & Squishy storylines. It's really kind of weird, because the ending is both satisfying to read because of Boss's resolution, but it is also flat due to Squishy's ending. I literally said out-loud, "Well that was cool… except… wait, that's it?"
BONEYARDS is half a novel. It's a really good half novel, and there is a definite resolution on a personal level for Boss, but I really needed more. In a glass half-full way, this is a good thing. I enjoyed this novel quite a bit and would have gleefully read another 300 pages that dealt with the exploration of the Boneyards, and the consequences of the finale of the this novel. Instead I got a bit of a flat cliffhanger.
So should you read this novel? Absolutely. I really liked it, and I think you will too. This is SF that everyone can enjoy. But you need to go into it with the understanding that this feels like there should be a BONEYARDS Part 2 floating around. Even as half a novel, it is still very enjoyable and has actually made me looking forward to the next book even more.
Recommended Age:

15+

Language:

As with the prior novels, there is some swearing. It can be strong, but it doesn't permeate the novel.

Violence:

A bit towards the end, but it isn't focused on

Sex:

Referenced, but never shown or talked about in detail
You should be reading this series.