Category ::
Uncategorized
Review
We Ride the Storm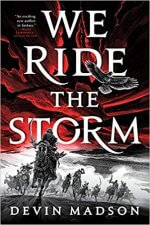 Book titles are crafted to sell the book. They try to strike the right note of alerting readers to the genre while pulling new readers in. There are book title fads (remember when every book title was one word long?) and trends and they are not (as I used to assume) whatever the author thought was the best title for the book.
Devin Madson's epic fantasy, WE RIDE THE STORM , is an exception. The first installment in the The Reborn Empire series, this book was originally self-published, and Madson kept her original title. It's a great title for the novel, where the three POV characters are thrust into the metaphorical storm of war, each of them desperately trying to use newly slippery, shifting allegiances to their advantage.
A fragile peace exists between the kingdoms of Kisia and Chiltae. Miko is a princess of the Kisian empire. The current emperor delays naming either her or her twin brother as his heir, because they are not his true children. Determined not be […]Read the rest of this review »
Review
The Wolf of Oren-Yaro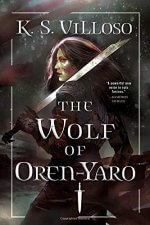 THE WOLF OF OREN-YARO (Amazon), originally self-published back in 2017, fought its way to the top of the fantasy charts on Amazon, catching enough people's attention along that way that Orbit plans on publishing a trade paperback version in February 2020.
So what's the hype about?
Well, THE WOLF OF OREN-YARO is an epic fantasy with world building elements pulled from a variety of Asian countries and a compelling female protagonist.
Cool, cool, cool. Sign me up.
Read the rest of this review »