Book Author ::
K.S. Villoso
Review
The Wolf of Oren-Yaro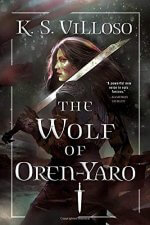 THE WOLF OF OREN-YARO (Amazon), originally self-published back in 2017, fought its way to the top of the fantasy charts on Amazon, catching enough people's attention along that way that Orbit plans on publishing a trade paperback version in February 2020.
So what's the hype about?
Well, THE WOLF OF OREN-YARO is an epic fantasy with world building elements pulled from a variety of Asian countries and a compelling female protagonist.
Cool, cool, cool. Sign me up.
Read the rest of this review »