Book Series ::
Rolling in the Deep
Rolling in the Deep — #1
Into the Drowning Deep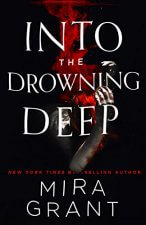 INTO THE DROWNING DEEP (Amazon) is the kind of book I would normally recommend as a beach read. First, I guess I should clarify that by beach read, I don't mean trash. A good beach read is straightforward enough that you can pick it up and put it down whenever you need to take a dip in the water or reapply that sunscreen. Ideally, beach reads also have enough forward motion that I can while away the hours with ease. INTO THE DROWNING DEEP meets those criteria–it's engaging and fun with a good dose of horror and an embrace of the absurd.
It's also about killer mermaids.
Read the rest of this review »