Reviews :: Book Genre ::
Non-Fiction
Review
Game Art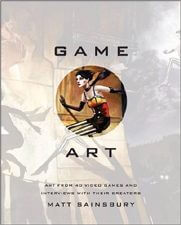 The book which has occupied the coffee table at my house for the last few years is one that's grown to be a favorite: THE ELEMENTS (Amazon). It's beautifully photographed, the entries for each is only a few pages long, with Theodore Grey writing about the elements as though they have their own personalities. You could spend five minutes or five hours reading it or simply looking at the pictures. It is this book with which I compare all other coffee table books.
GAME ART (Amazon) was sent to me in September when it was released. I hardly got to look at it at first because my children, lovers of all things games, had stolen it and hidden it in their rooms to read at their leisure. When I finally got to look at it myself it's easy to see why they love this book.
If you've always considered games an art form of their own, then this is a book for you.
Read the rest of this review »
Review
American Sniper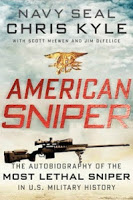 Nonfiction! What is this black magic? You all must be thinking that I'm a pretty contradictory person. I don't read books about dragons. I love James Maxey's GREATSHADOW (EBR Review). I don't read anthologies. I love ARMORED edited by John Joseph Adams (EBR Review). Now I'm going to tell you that I don't read nonfiction. Ever. But it turns out that I really liked AMERICAN SNIPER (Amazon), written by Navy SEAL Chris Kyle, with Scott McEwen and Jim DeFelice. An autobiography about a Navy SEAL? Well if you're going to read nonfiction you might as well read the most exciting nonfiction available.
Chris Kyle served as a Navy SEAL during Operation Iraqi Freedom. Kyle and his platoon were part of some of the thickest fighting the US Armed Forces were involved in, from pacifying Fallujah to cleaning out Sadr City. AMERICAN SNIPER is an unapologetic, patriotic, and personal look at the conflict in the Middle East from the perspective of a special forces sniper.
Read the rest of this review »