Review: Game Art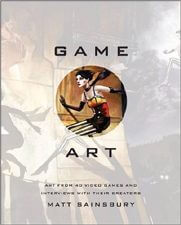 Amazon
The book which has occupied the coffee table at my house for the last few years is one that's grown to be a favorite: THE ELEMENTS (Amazon). It's beautifully photographed, the entries for each is only a few pages long, with Theodore Grey writing about the elements as though they have their own personalities. You could spend five minutes or five hours reading it or simply looking at the pictures. It is this book with which I compare all other coffee table books.
GAME ART (Amazon) was sent to me in September when it was released. I hardly got to look at it at first because my children, lovers of all things games, had stolen it and hidden it in their rooms to read at their leisure. When I finally got to look at it myself it's easy to see why they love this book.
If you've always considered games an art form of their own, then this is a book for you.

GAME ART is broken up into sections that separate styles, such as microbudget games, epic quests, fantasy worlds, the supernatural, and the surreal. Interviews with the game designers accompany the pictures. For example, the first entry is about Jennifer Schneidereit, who designed Tengami, a point-and-click adventure. What's unique about Tengami is its papercraft art style and the puzzles that mimic pop-up picture books. And like with most of the interviews, we learn the background of Schneidereit's choice for the art style and her evolution. Each interview is personalized with their experiences, what inspires the artists/designers, and the purpose of the game. Like with ELEMENTS mentioned earlier, these are bite-sized glimpses that you can read in five minutes a piece, set the book down, and come back another time for the next. The format works really well for the medium.
The variety of art is fantastic. I mentioned the papercraft style, but there's also anime, realism, surrealism, comic-book style, a variety of cultures, high fantasy–there's so much to peruse, including some seriously glorious two-page spreads. My anime-loving daughter in particular loves the art. My game-loving son is fascinated with how the developers design their games.
All in all, GAME ART is fun to look through and would probably be a great gift for the upcoming holiday season for those into the genre.
I have only minor complaints. The big blocks of text sometimes distracts from the art, the format easy to read yet bulky. A couple of the pictures are blurry, more the result of capturing stylized game art than the fault of the publisher. The majority of the art is captured beautifully.
In all GAME ART is fun to look through and would probably be a great gift for the upcoming holiday season.
Recommended Age:

13+

Language:

None

Violence:

Pictures of blood and fighting

Sex:

Referenced as some games can lead to sexual-encounters, but no pictures are depicted; also contains a typical amount of anime cleavage