Review: Armored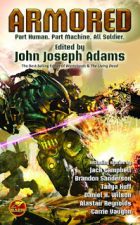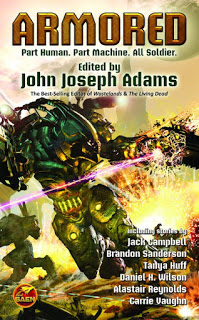 Amazon
If you know me then you know I absolutely hate short stories. If you don't know me: Hello, nice to meet you, I hate short stories. I hate all short fiction really, novellas and poems and such. I took a fiction writing course and it was all about writing short fiction. I hated that too. But! If there was ever an anthology I was ever going to enjoy it had to be ARMORED, edited by John Joseph Adams and published by Baen. A whole collection of stories solely based around my favorite science fiction concept – power armor. With a foreword by Orson Scott Card and an unbeatable roster of authors from Dan Abnett to Brandon Sanderson to Tobias Buckell, ARMORED (Amazon) could be the military SF Promised Land. So how did it fare? Read on.
The anthology opens up with a foreword by Orson Scott Card that really sets the stage for the stories to come. This is followed by an introduction by John Joseph Adams that also amps readers up and gets the gears going. Rather than review each of the stories (there are 23 in all) I will just dip into the highlights, and man are those highlights difficult to choose from. This anthology is just that good.
"The Johnson Maneuver" by Ian Douglas starts the book with a bang. Douglas knows his Marine Corps history and aptly develops the image of future soldiers in a satisfying fashion. The power armor featured is cool (and this is just ceremonial armor!) and the aliens are really interesting. The most important part of the story as the opening act of a whole collection about power armor is the reminder that it is never about the armor, it's about the man inside.
"Jungle Walkers" by David Klecha and Tobias S. Buckell is a near future tale that pits an unarmored weapons platoon in South America against some very heavy metal. I think what I liked most about this story was that the heroes aren't the guys wielding the devastating weapons of the future. The story also goes a little into the politics of the conflict which are at once familiar and yet different.
"Death Reported of Last Surviving Veteran of Great War" by Dan Abnett is a great example of why I love Dan Abnett and hate short fiction. The story is told in a very vague, testimonial style that teases the imagination. I would love to learn more about the protagonist and the world he inhabits but I realize the lack of detail and brief length hold the most punch and successfully encapsulate the nature of short-story telling.
"Find Heaven and Hell in the Smallest Things" by Simon R. Green is very cool and creepy. Green shows us a world that hates and desperately wants to kill any intruders. The world itself is hostile to human life and the very flora strives to eradicate the unwelcome. A great distinction of this story is that the power armor is actually a prison to the occupant, a life saving death sentence.
"The Last Days of the Kelly Gang" by David D. Levine is probably one of my favorite stories of the collection. This story features some rough riding Australian desperadoes and a suit of steampunk power armor. This is a very unique story that just oozes awesome and I'm not even that big of a steampunk fan.
"Field Test" by Michael A. Stackpole is another of my favorites. The story actually takes place during the revolution in Libya. The armor of this story is cool while being believable. The action is great and, again, believable. I can totally imagine a mech like the one in the story, running around performing black ops missions in destabilized countries.
All in all, ARMORED is a fantastic anthology.23 stories by some of the best authors in science fiction and fantasy for paperback price is a steal.
"Heuristic Algorithm and Reasoning Response Engine" by Ethan Skarstedt and Brandon Sanderson is perhaps the story I am most iffy about. On one hand there are some extremely cool concepts to be found in the story, from the mechs to the self replicating machines. Then on the other hand the dialogue is offensively artificial and more than a little Anime-style melodramatic. Oh and the mech's artificial intelligence, HARRE, is probably the most annoying AI that I have ever encountered. I'm pretty love/hate about this story as well.
"The Green" by Lauren Beukes is probably my absolute favorite story of the collection. I had heard of Beukes before but never read her fiction. This story has just won me over. It is ironic because the story features no action, a shallow but ever present desire of my reading habits. Instead Beukes displays some superb world building capabilities, creating an environment that is even more haunting and subtle than Simon R. Green's short.
All in all, ARMORED is a fantastic anthology. I loved most all of the stories, and 23 stories by some of the best authors in science fiction and fantasy for paperback price is just a steal. If you're like me, and just the words "power armor" get your blood pumping then go grab a copy and let the metal fly.
Recommended Age:

14+

Language:

Some but never offensively blatant

Violence:

Tons, but none of it is excessively gory

Sex:

Implied once or twice, nothing extensive
This collection is well worth your money.