Book Author ::
Steven Brust
Review
Vallista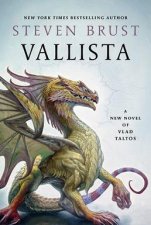 VALLISTA is a weird story, and Vlad Taltos, Steven Brust's long running, on-the-run ex-gangster fantasy series, embodies the series' increasing strangeness. The novel focuses predominantly on everyone's favorite time and worlds-travelling stealth hi-byer, Devera. While Devara drags her Uncle Vlad into a search to help her escape her predicament (it makes sense as you read), Vlad soon finds himself in a strange manor where rooms lead nowhere, the patrons and denizens are a lot of miserable secrets and wretched histories, and a monster stalks the halls. The House itself, which is alive and delightfully a character with its own soul and history, takes the center stage.Read the rest of this review »
Interview with Steven Brust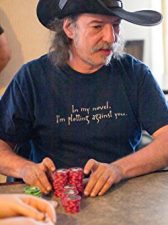 EBR: Who is Steven Brust, in that "Inside the Actors' Studio" way, and tell us a little bit about yourself? What would people enjoy about your novels, besides the true crime story in an epic fantasy novel series you've had running for a few decades?
Steven Brust: You ask hard questions for someone raised to believe that one doesn't talk about one's self. I do need to rewatch some "Inside the Actors' Studio" though, thanks for reminding me. In the meantime, I'm not sure how to answer that. Born in Minnesota, I've lived here most of my life. I was raised by proletarian revolutionists, and still consider myself Trotskyist sympathizer. I also consider myself extraordinarily fortunate to be able to make a living doing what I love, not just in the sense of writing fantastical fiction, but that (so far) I've been able to survive writing the next book I want to read. The next book I want to read usually has a fair bit of wit, some action, characters that I want to follow around to see what they do next, and enough "chewy bits" ((tm) Emma Bull) to reward rereading.
Read the rest of this post »
Review
Good Guys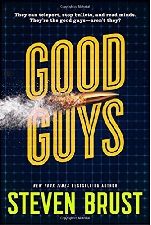 Sometimes I wonder if Urban Fantasy is stuck in the year 2005. Vampires. Werewolves. Angels. The Fae. And then once in a while, lo and behold, I find a novel that fulfills a certain niche: mages versus mages. Except this isn't Hogwarts, or Harry Dresden walking into yet another CSI murder scene that turns into the Fae having a turf war. No. It's Steven Brust, author of the acclaimed Vlad Taltos series, returning with his first standalone in twenty plus years. And it has all the trademarks of Brust's usual style: dry wit, working-class grit, and a whole lot of talking. GOOD GUYS asks a simple question: Is it good to be working for a shady organization who pays you peanuts for a wage? Maybe.
Read the rest of this review »