Book Author ::
E.E. Knight
Review
March In Country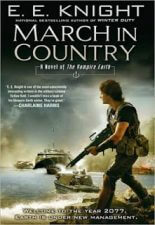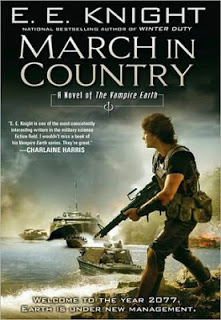 I recently received the latest Vampire Earth novel in the mail and realized I hadn't yet reviewed MARCH IN COUNTRY (Amazon). It's been a while since the novel came out–honestly the wait from that book to the newest edition, APPALACHIAN OVERTHROW (Amazon), has been a tough one to endure–but I thought it was important to get this out there for you.
Read the rest of this review »
Review
Winter Duty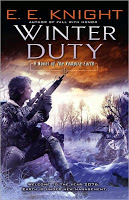 WINTER DUTY (Amazon) is the latest entry in E. E. Knight's Vampire Earth saga, and it gets the story on track. The prior entry–the seventh novel–was generally regarded (and rightfully so) as a sub-par effort in an otherwise fantastic series. Thankfully, WINTER DUTY is a welcome return to the quality of the prior novels.
For those uninitiated with the series, here is a brief lesson on this apocalyptic take on vampires (before you point fingers and go rabid, remember, we like vampires as long as they don't sparkle at us). The world has been overrun by the Kurian Order, which are basically monsters that have a remarkable similarities to vampires, (Duh. The series is called Vampire Earth) and they actually act like it. They will kill your face until you are dead. Eureka! Queue the angelic chorus!
Read the rest of this review »