Review: Black Stone Heart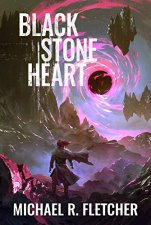 Amazon
I don't often go out wandering amidst the self-published story crowd, but I was vaguely not-paying-attention on Twitter a while ago and ended up making a request for an eArc without realizing from whom I was making said request. That story is not this one (you have to wait until Friday for that one), but after making that first request and paying attention to what that author was doing, I ended up making a couple of other requests from self-published authors that were in his circle, and this is one of those.
Without being too specific, I can definitely say that I have been pleasantly surprised with both of those I've read so far. Count me lucky, but more likely blame the buzz about this year's instance of Mark Lawrence's Blog-Off for steering me in the right direction. Because otherwise, I likely wouldn't have ever come across this author or his book anytime soon. And can I give some kudos to the artist of the cover art? Was totally one of the things that made me take the plunge and read this one. Check it out.

BLACK STONE HEART (Amazon) is the first in a new series by self-published author Michael R. Fletcher. It's a story that takes as it's tale, the journey of a man re-born from the smallest shard of his soul. Khraen is his name, and he knows but little else. There is life and there is death and if he doesn't want to die, then he must kill. First come the animals, those that stray near to him anyhow. Soon he has strength to move and it isn't long before he finds a man, living a sparse life in a meager hut, and in order to keep surviving he has to kill this man. Take his home and his life and bring sustenance to this body that he controls. After a time he meets a boy, and there is something within this boy that he must have. So he kills the boy and digs down into the boy's chest and finds the first piece of who he used to be. It is contained within a small shard of black stone that knows immediately where to go. It digs it's way down into Khraen's chest and returns to it's place of residence, as a portion of the heart he used to have, bringing with it memories and understanding and a realization that there is more to him that he must find. And so he leaves that little hut, leaves the life that he knows, and seeks to find what he once was.
This story started really well. The first-person POV makes it immediately character-centric, and the voice of the main character is at once inquisitive, ruthless, and driven. Khraen is up and moving at the first and I can't help but love to see that in a story. His story, simple as it is, was immediately compelling to me, as a character that once was so much and is now seeking to once again find himself. I wouldn't say that Fletcher's prose is beautiful or flowery, but it's built pretty well. Lean and to the point. At times this works in the narrative's favor. At others, it's somewhat hindered by it.
Fletcher mentions on his website that he went into this series with the decision to not plan it out. He knows where the story is to be driven toward, but not how he'll get there. This sense of adventure and wandering is fairly evident as the story evolves. The reader learns as the character learns. There are a few secondary characters that are fairly-well rendered that play a part in Khraen's tale, and the world surrounding him, while sparse, was enough to keep me engaged. The tone of story also always tends to stay fairly conversational. This allows the author to bring up lots of the larger themes that he's trying to explore in this novel. The largest of those being "What is evil?" That question came up often, and while I'm typically not a fan of stories that deliberately try to do this (and end up leaning too far into the realm of the literary for me), I found that the constant questioning didn't really bother me all that much because of how consistent the author stays to the main character and his drive for completion.
BLACK STONE HEART is a character-driven story of a man that was absolutely the bad guy in someone else's story. Engaging, fun, and worth a read.
I wasn't exactly sure how to classify this one. Dark Fantasy for sure, but I wasn't sure that it would classify as GrimDark. The world, while built well-enough immediately around the character and his arc, didn't really strike me as one that is contained in a GrimDark story. The world-building was likely one of the weakest aspects of the story. While there's enough of it close at hand, the sense of "fullness" that you get in a story with a world that is fully fleshed out and built sufficiently wasn't there. Now, the characters themselves would likely live in a GrimDark world. The main character is very much one that would play the antagonist in another character's story arc. I do have some concerns for the continuation of Khraen's story and keeping enough empathy with the reader. He's looking to be quite the bad guy, and I'm wondering just how long the author will be able to keep his readers entertained with such a POV.
Likely the largest disappointment for me was the lack of focus toward a particular ending. This fact may be due to the inherent nature of the "wandering" aspects of the novel, and exactly what the author was looking to give to his readers. It just didn't really work for me. As the end of the book approached, I never really felt the rising tension of an inevitable end, and then as I finally read the last few lines, while I appreciated the twist there that will inevitably affect the direction of future sequels, I really didn't feel like it put much of a cap on anything that had come before, and thus wasn't fully satisfying in the way I'd hoped the ending the book would be.
Still, this was a story that caught my attention and held it for the overwhelmingly large majority of the read. If I were to compare this self-published novel to any of those that I read as part of the SPFBO in years past, it would definitely sit near the top. Within the top ten of every year that we participated for sure.
Definitely an author to keep an eye on, and perhaps, if any of what I've said above encourages you to take the plunge like I did, pick this story up and read it yourself.
Recommended Age:

18+ for the bundle

Language:

Strong but infrequent

Violence:

Lots of blood and gore and visceral, intimate violence

Sex:

More than a handful of scenes and lots of overt references
# 1: Black Stone Heart

—

This Review

—Amazon

# 2: She Dreams in Blood