Review: Every Dead Thing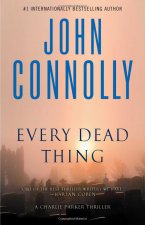 Amazon
I forget when or how I first came across this book, and I've been wanting to read it again for quite some time now so that I could write up a coherent review of it. Just never got around to it. Well, the 17th book in the series that grew from the roots of this book was recently released in the UK (US release coming mid-October), and so I figured this was as good a time as any to dive back into this one, and find out if it would be just as good this time around as I remembered it being the first time.

EVERY DEAD THING (Amazon) is the first of the Charlie Parker series of thrillers. I can't say that I've had much luck when it comes to finding thrillers that actually… well, thrill me. Whether that emotional impact comes because of breakneck pacing, or ratcheting tension, or a constricting plotline, I've only ever come across relatively few that actually fit the bill they're trying to feed to me.
Charlie Parker used to be a detective with the NYPD. The drive of the job drove a wedge between him and his wife though, and one night after an especially heated argument and several hours of hard drinking on his part, Charlie Parker comes home to find his wife and young daughter slaughtered in the kitchen of their own home. The resulting guilt and his attempts to be involved in the eventual police investigation is nearly enough to drive him over the brink and into madness. Several months afterward, his former partner asks a favor of him. He has a case. A small one. Missing girl. Something Parker can do well. It isn't long though before the case opens up and pulls him down into it. Every dark hollow proves to be another hole, and soon he's embroiled in the middle of the fallout of a serial killer case decades old that proves to be colder and moldier than any of the crypts that should be holding all of its dead. But also, down in those dark places, he finds connections to the deaths of his wife and daughter and creates within him a drive for revenge and completion that will not be sated until he has unearthed everything that has for so long been buried.
It was interesting, reading this book for the second time. I found that there were some things I remembered quite well, such as Connolly's impressive writing, great characters, and dark convoluted plot that just didn't stop giving. There were, however, also a couple things that surprised me. Such as how timid the supernatural elements actually were, and how long the thing was. The story feels like it's split into two major sections. The first dealing with the mystery behind the missing girl, and the second with the trail that leads to the serial killer known to Mr. Parker only as "The Traveling Man". The story mixes the mystery of a detective novel with the supernatural elements of a raging horror novel with apparent ease. But in this instance, it is not necessarily an evil monster that plays the supernatural threat. There are very many instances throughout that reveal the horror and viciousness of the beast known as man.
This, the first Charlie Parker thriller, introduces Mr. Parker's tortured past, the vicious nature of those he seeks, and a little of the supernatural too.
As a main character, Charlie Parker is broken and twisted to extreme degree. It's hard to even imagine how such events might affect the mind of a single individual, and yet the author has done a convincing job of it here. There are aspects of Parker's character that elucidate strength and intelligence, but also that expose his own intense desire for revenge and willingness to do anything — anything — it takes to inflict mortal damage to the person that was ultimately responsible for the deaths of his wife and daughter. He is very conflicted, and at times both heroic and villainous as well.
I ended up consuming the readings of two different narrators while listening to this audiobook. As is typically the case, the readers made a large impact on my experience. I only got to listen to the first portion of the book as read by Titus Welliver, and then had to change over to one read by Jeff Harding. The Welliver version was vastly superior, and I was fairly disappointed to find out that this was the only Charlie Parker book that he narrated. Even though I ended up loving the book as a whole, the experience was definitely lessened by Harding's reading of it. It just didn't have the same punch, and it was immediately obvious to me that this would be the case, once I changed over. If you decide to give this book a go and find that you have the option to choose between both of these two versions, I would highly suggest that you go with the Welliver reading. In fact, I so enjoyed his narration, that I'll probably end up going out and looking for something else that he's done. Always nice to find a new narrator to chase after. 🙂
If you're a fan of detective novels, and can look past the fact that it's only very minimally speculative (even I really didn't have a problem with that fact this time around), this would be a great book to pick up. As long as you can stomach the intensely dark content. Even if this is an old one, it isn't every day you come across a massive series that's already been written and is just waiting for you to dive into it.
Recommended Age:

18+, more for violence and gore, but there's enough of everything here

Language:

Strong, but mostly from certain secondary characters

Violence:

Lots of violence and gory detail. Like a WHOLE lot.

Sex:

Several strong references, one moderately detailed scene, and references of child molestation