Review: Mystic Dragon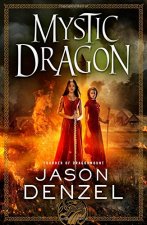 Amazon
I love traditional heroic fantasy. My best friend's family took me camping in Big Sur, CA, long ago and we read THE LORD OF THE RINGS for the very first time together. Unforgettable, of course. So it was with bated breath and a slightly elevated heart rate that I opened Jason Denzel's sophomore effort MYSTIC DRAGON. But first…
Tor created a lovely booklet-sized prologue to the entire Mystic series called THE NAMELESS SAINT and I was fortunate to obtain a copy. It is a nearly perfect essay-length gem and the stunning cover art continues to impress. Unfortunately, these are only available at MYSTIC DRAGON book signings. (I bet Jason might send you a signed copy if you ask nicely.)

Book 1 in the same-titled series, MYSTIC (EBR Review), was quite good for a first-published novel and got even better in its final third. The memorable characters stayed with me, so I was eager to see what had happened to all of them. How would Pomella react to her role as a common-born Mystic apprentice? How would Sim fare in the wide world and would he ever be reunited with his childhood love? Would Viviana thrive as apprentice to imperious High Mystic, Yarina?
I'd like to meet some more Lagharts, the intriguing non-humans who inhabit this world. Will we also see more of a beloved character from a familiar series who appears here as well, Oxilian, The Green Man? Let's not forget brave Hector and Ena, the fay hummingbirds who protect Pomella. And what about the other-worldly realm of the fay from which the power of the Myst emanates? Gotta learn more about that.
Seven years have passed since the cataclysmic events at the end of MYSTIC. Probably tedious apprentice training ensued for Pomella and worse things for faithful Sim, who was apprenticed as a ranger to the exotic, demanding Rochella. Pomella's retired High Mystic mentor, Faywong Lal, though a dear, curmudgeonly relic, is sometimes demanding and exasperating. Pomella and Viviana have matured in ways both predictable and surprising and we begin to see the intervening years in flashbacks that are well-placed.
Enter Shevia, as teased by the cover, and she is everything strange, conflicted, damaged, and redeemable. We hope. Worlds are about to collide and High Mystics travel from all over the Continent to the center of the action in Kelt Apar. (Jason is good at fantasy naming, which I hear is not easy.) Interesting, all, and with motives hidden and obvious, benevolent and, well, we are not exactly sure. Many lovely surprises are in store.
The first six chapters of MYSTIC DRAGON are some of the best opening chapters in any fantasy book I have read to date, including all the greats. Chapter six itself is particularly good, especially pp. 91 and 92, which I highly recommend to any aspiring writer as an example of a good author writing under the influence of inspiration using both skill and economy of words. Jason employs just the right amount of description, painting a beautiful picture and flowing from thought to thought with ease. Absolutely delightful.
Second book in Jason Denzel's series, MYSTIC DRAGON continues with complex magic, interesting characters, and only a few hiccups along the way.
I can't say the same for the bulk of the rest of this story. Things happen and the action is satisfying and the characters interact well…. There are so many good things to say, but the magic of inspiration is somehow not present. I questioned many characters' motivations and those questions lingered, unlike in the first few chapters. There seemed to be a solid plan in the beginning, but then Jason went "gardening" and it may not have been the best strategy. The magic system became less-defined rather than more so and I questioned aspects of that, as well. There is a decided lack of consequence for using the power of the Myst. The flashbacks, rather than filling in the gaps in satisfying and pleasing interludes, begin to intrude. Main characters place themselves in wholly unnecessary danger at one crucial point and, while my eyes did not roll, I was dumbfounded.
Am I expecting too much? Maybe, especially in light of certain authors of previous generations for whom there was much more leeway. But…we are in the here and now and we are demanding, mostly due to the high quality of fantasy fiction available. There is, though, a dearth of good reliable-content traditional fantasy in today's market. If you were able to appreciate the sometimes-plodding pace of Robert Jordan's second book in the Wheel of Time series, THE GREAT HUNT, surely you might be as forgiving as you either begin the MYSTIC series or continue with this offering. I think MYSTIC DRAGON is better in many ways.
I have good news: Jason finishes this one almost as well as he did the first volume. The guy knows how to wrap up a story both satisfyingly and with excitement, much like his late mentor and friend, RJ.
Writing Quality: Excellent, then spotty, then very good. Plotting: Begins and ends well. Characterization: The best thing about MYSTIC DRAGON. Pacing: Great, then just OK for the bulk, then great again. Too many flashbacks did not help. Dialogue: Excellent-to-good throughout. Magic System: Weakly handled. Romance: Wanted more. Which is better than "way too much," I guess. Hoping for a good romantic payoff in the finale; plenty of sexual tension has been built. Sense of Peril: Very good throughout. Even though the big baddie lacks nuance, he is good and scary. All action scenes are generally tight and well-crafted. Character Growth: Good. Mostly. Character Motivation: Very good through ch. 6. Even though I hmmm'd at Pomella's do-gooder beginnings (thought we had a Mary-Sue in the making), they made sense later. The strong final chapters do not fully explain motivations the middle two-thirds, though. Eye-Roll-Count: None, really. Will-I-Read-More-From-This-Author: Yes! Absolutely. Despite its flaws, I am all in. Jason writes female characters and their relationships with each other and with the men/mentors in their lives quite well and there is much to explore. I was left wanting more in the satisfying final chapters.
Recommended Age:

15+

Language:

Mild antiquated and modern British cursing

Violence:

Some bloody death and destruction, not much gore

Sex:

One scene, very little detail; some crude references from one crude sailor