Review: Nebula Awards Showcase 2018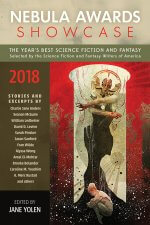 Amazon
When I mentioned to my husband that I was reviewing the NEBULA AWARDS SHOWCASE 2018 (Amazon) he asked: isn't the fact that all of these pieces were nominated for an award a review in and of itself?
It's not a bad question. But I think the answer is only: sort of? Anthologies are are hard. Even anthologies where the stories have all been previously vetted can feel bloated or uneven. In fact, I haven't picked up an anthology in long time for these two reasons–the last few I read felt like a lot of panning and sifting for very little gold. So even with the words "Nebula Awards Showcase" emblazoned across the front I was skeptical.
And I was wrong. This anthology is full of strong pieces, both short stories and novelettes, as well as (unfortunately, but probably inevitably) excerpted novellas. Jane Yolen, who was the editor of this anthology, faced a tough job but I felt like the pieces she included from the awards spoke to the breadth and depth of the field. She arranged the pieces in a way that moves the reader along nicely, juxtaposing the diverse tones and styles of individual stories.
I thought the short stories in the collection were particularly strong, and the winner "Seasons of Glass and Iron" by Amal El-Mohtar is a beautiful piece of fantasy storytelling, drawing together a number of different folktales in a satisfying and fresh way.
"Sabbath Wine" (Short Story Nominee) by Barbara Krasnoff stood out to me for its emotional impact. The least 'fantastical' of the short stories, set in early 20th century New York, this tale of two children and the burdens their families share was well-crafted, pulling at heartstrings without pandering.
Two pieces that stood out to me as being particularly interesting in light of the zeitgeist "Our Talons Can Crush Galaxies" (Short Story Nominee) by Brooke Bolander and "The Orangery" (Novelette Nominee) by Bonnie Jo Stufflebeam. Each of these pieces, although very different in tone and style, used mythology to explore issues of violence, sexuality, and women's power(lessness) against men's bad behavior. Although they were written well before now, having been published in 2016, they (unfortunately) felt more relevant than ever.
THE NEBULA AWARDS SHOWCASE 2018 felt like a good way to be introduced to authors--and be reminded why short form sci fi/fantasy can be great.
Caroline M. Yoachim's (Short Story Nominee) "Welcome to the Medical Clinic at the Interplanetary Relay Station | Hours Since the Last Patient Death: 0" also deserves a mention for tackling the persistent difficulties of insurance while also being very entertaining–a true feat of talent.
Two of the novelette nominees that stood out to me demonstrate how delightfully varied speculative fiction can be. I was struck by Jason Sanford's "Blood Grains Speak Through Memories" for his worldbuilding. In a future where the high price of humanity's impact on the planet has been solved through a fusion of technology and magic, Sanford explores the true cost of the system for one family.
"You'll Surely Drown Here If You Stay" by Alyssa Wong caught my attention because of her excellent prose. The story feels surreal and otherworldly while also staying grounded in day-to-day details that keep the reader from feeling like the prose was more valuable to the writer than the story. Wong deftly avoids this flaw, which can be common in shorter pieces, and weaves a creepy tale with a folkloric, southwestern feel that I enjoyed.
As the back copy on the book reminds readers, the NEBULA AWARDS SHOWCASE has been "published annually since 1966." And I have to wonder if this format might have been more useful pre-internet, when you would have had to buy any number of different zines/publications in order to read material which is now easily available online. Case in point: all the pieces in this book were published in 2016, received awards (or didn't) at the ceremony in 2017 and the anthology itself wasn't published until August 2018. The odds are good that, almost two years after their initial publication, if anyone had wanted to read these stories, they probably already have.
Or, at least you would think so, but that's not always true, especially for short stories. For example, of the selections I had previously read, one was the novel ALL THE BIRDS IN THE SKY by Charlie Jane Anders and the other was the novelette "The Jewel and her Lapidary" by Fran Wilde. This shows, perhaps, my individual bias towards novels, but also might suggest that it's easier to stumble upon longer works (as opposed to shorter ones) while browsing libraries or local bookstores.
In short, it was nice to have a collection. I'm not one hundred percent certain that it's a book I would buy, as much as a book that I would check out from the library, but it felt like a good way to be introduced to authors–and be reminded why short form sci fi/fantasy can be great.
Recommended Age:

14+

Language:

Varies but most stories weren't very swear-y

Violence:

Yes. Varies but definitely some gory stories

Sex:

Surprisingly little, not very explicit when mentioned
Your link:
Nebula Awards Showcase 2018

—Amazon