Review: Seriously Hexed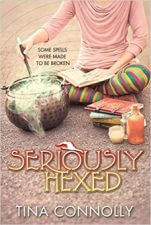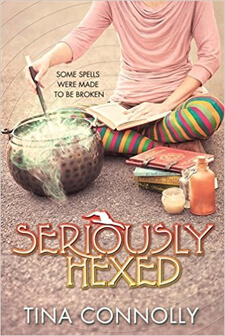 Amazon
Cam is your typical teenager. She's got friends, wonders how her awesome boyfriend could like such an awkward girl as her, and is frantically studying for her American History test. The only exception is that she's a witch. However, it's that extra complication that makes her high school years less than typical.
For example, most teenagers don't have to deal with their mother disappearing during a coven meeting.

Cam and her mom don't exactly get along. In SERIOUSLY WICKED we learn why their relationship is strained and that Cam wants to take her witch-life in a different direction than her mother. In SERIOUSLY SHIFTED we begin to see a slight shift as Cam holds her own and earns respect from her mom. Unfortunately we don't see much of Scarmine in SERIOUSLY HEXED, but we begin to understand what her mom really means to Cam (cue "awwwwws"). Scarmine calls a coven meeting, something that hasn't happened for many years, partly to install her daughter as a new member (since the old one was eaten in SERIOUSLY SHIFTED), and to open a mystery package from said dead witch Malkin.
Everything goes wrong, thanks to the hexed package. Cam's mom disappears. Other witches are being hexed on a regular schedule, and it's only a matter of time until Cam is hexed herself. Will she disappear like her mom?
But even when things go wrong, there's something that goes right: Cam makes a new friend in Poppy, the daughter of another coven witch. They take Cam home so she isn't by herself after her mom disappears, and while Poppy's mom tries to figure out what's going on Cam and Poppy do their own investigations together. Poppy is everything Cam isn't: organized, super smart, and popular. At first they work together out of necessity, but then they learn to rely on each other and it's very fun to watch their friendship blossom.
We also see new characters in the magical creatures community, including sasquatches and werewolves, and learn more about how Cam's dad was an advocate for stopping witch mistreatment of magical creatures. Its seems that Cam takes after her dad in a lot of ways. Sure most of the time we get to know these new characters, but while we don't see a lot of Devon (literally), Cam's best friend Jenah, and Cam's mom, they still have integral roles to play in the story and Cam's life. She sure is a lucky girl to be surrounded by such loyal and amazing people, especially when times get hard.
What would you do if your mom was a witch and disappeared during a coven meeting? Teenaged witch Cam must deal with it all in SERIOUSLY HEXED.
While most of the story revolves around the people and understanding the mystery of the hexes, Connolly spends plenty of time helping us to understand the magical part of the world, which does end up being important in solving the hexing mystery–although not as much as understanding people and their motivations. I was still left with questions and some of her magical details felt a little lacking, but ultimately this is a story about a high schooler and is for a YA audience so going deep into worldbuilding really isn't necessary.
Ultimately, this is a great series for your middle school or early high school readers because it's about doing what's right, even when it's hard (and who knows, you may even change the world in the process), and how friendships mean being a good friend first. Highly recommended.
Recommended Age:

13+

Language:

None

Violence:

Peril with demons and explosions

Sex:

Teenage relationships (no sex referenced)