Review: Seriously Shifted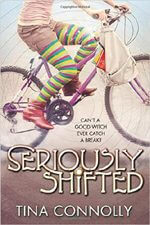 Amazon
Not long ago Cam rescued potential-boyfriend Devon from being possessed by a demon, saved the town from a phoenix resurrected by her witch mother Sarmine, and was still able to pass Algebra. Such is the life of a teenage witch.
It seems that trouble continues to find her, because now her mom's old college buddies have descended on the hapless town and decided to make a bet that involves making Cam's friends miserable–her job is to thwart them.

SERIOUSLY SHIFTED is book two after Tina Connolly's first book SERIOUSLY WICKED, her YA series about teenage witch Cam, who wants a normal life. She's since accepted that she's a witch, and that Sarmine really is her mother, but Cam is determined to be an ethical witch–that is, avoiding killing creatures for spells. Unfortunately, it's a lot harder to be an ethical witch than a wicked witch. But Cam is proving it's not impossible.
This series is safe for your teen daughters (no sex or profanity), but at the same time visits philosophical questions around what it means to be a good person. Cam has a list of ethics, but must often revise it as she runs into difficult situations. Can a list like hers really cover everything? What's the consequence if she doesn't stick to her list? What's the reason behind her desire to be an ethical witch? Some of these questions are touched on, but I'm hoping there's more to talk about in sequels.
We get to know Cam's friends a little more, like her spunky best friend Jenah, new ally Henny, the shy-yet-cool Devon, and football jock Leo. We see the most from Leo, who is the "shifted" in SERIOUSLY SHIFTED. It turns out that the witches have an ulterior motive not obvious with the bet and Cam must find a way to help and protect her new friend. My favorite part of the book is Cam's evolving relationship with her wicked witch mother, who just wants the best for Cam, but is willing to let her daughter make her own path.
Not long ago Cam rescued potential-boyfriend Devon from possession, saved the town from a phoenix, and still passed Algebra. Impressed? You should be.
It's set in a modern world where most people don't know anything about magic. Cam's friends know about magic, and it seems like there's a lot of public magic for something the witches are trying to keep under wraps (until they can finally take over the world). But that's a small issue, when the real story is how Cam is trying to deal with the associated problems.
All of Connolly's books have great pacing, with stories that are more than they seem at first. It's short, sweet, and fun. Sure the story goes a little haywire in the end, but that's what makes it entertaining.
Recommended Age:

13+

Language:

None

Violence:

Not gruesome and most is off-screen; refers to things like pixie bones or squished newt eyes

Sex:

Kissing, vague references to nudity