Review: The Unholy Consult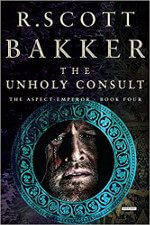 Amazon
Less than an hour before I sat down to write this review, I pulled my youngest daughter's loose front tooth from her mouth and thought what an amazingly apt comparison I might make between that act and this effort. Writing this review is a concept that I've done no small amount of pondering upon.
If you've had the pleasure of reading my previous reviews on the books in this series, you'll know I've not been much of a fan. And yet, they also contain within them some of the most amazing "fantastical stuff" (highly technical term) that I've read in literally any other fantasy book/series. So, much like my moments-earlier tooth extraction, I've decided to pull the painful review that I might otherwise have written, and instead put together a review that addresses everything I've been thinking about this book. Taking it, holding it aloft, and examining it from every angle, so to speak, now that it will no longer be paining me.
Granted, such a review is going to be considerably longer than my regular fare, so I feel as if I need to give a small qualifier to all you readers. If you're up for a bit more of my blabbering blatherskyte than usual, by all means sally forth and tally ho. I'll begin in short measure. If, however, you're just looking for the Cliff's Notes version, well, here you are: TL;DR Nearly identical in every aspect to the previous books in the series. If you liked them, you'll like this one. If you didn't, you won't.

THE UNHOLY CONSULT (Amazon) is the fourth and final book in The Aspect Emperor series by R. Scott Bakker, and follow-up to the amazing Prince of Nothing series. This second series has been a long time coming, and it's good to finally see the culmination of everything the author set out to achieve at the beginning. This is usually the point where I give a little summary of the story, but like I mentioned above, I'm going to go off the rails a bit for this review, and the way I've decided to do things is to talk about several different aspects of the book and this review in turn.
NATURE OF THE BEAST
Everyone has their own way of doing things, and like many others I too have my own way of writing reviews. I try to keep them relatively short, 750 to 1000 words. Because that's so short a space (for someone so grandiloquently verbocious as I) the tone of my reviews tends to come through quite loudly. I do that on purpose to a certain extent as I want to impart to my readers not only the technical details of the story, but also how it impacted me as a reader.
Because I read for the experience.
One aspect of my reviews for the previous two books in this series that has bothered me in hindsight was just how negative that tone was. At the time (both of them) that tone felt justified as I was completely frustrated with what I had just read. I gave my reasons for disliking them so much within those reviews, so I won't repeat myself here. Still, it has niggled at me for nigh on to a year now, and is one of the main driving forces for why I wanted to write this review in this way.
Because this series deserves more.
It's ridiculously impressive, in all honesty. I just have a horrifically difficult time with the way it's all presented. Then again, I have some pretty large difficulties with the way other, considerably more popular authors, choose to tell their stories as well–GRRM and Sanderson to name two–and I've not taken opportunity to lambast either of them in like manner (to date). And precisely because this series does deserve more, I wanted my review this time around to be exactly that. So, instead of going with my MO, I chose to instead slay the beast and lay it wide open.
WHAT HAS BEEN REVEALED
The main drive for the whole of The Aspect-Emperor series has been to "get the army to Golgotterath and there we shall destroy the Unholy Consult". So it shouldn't come as a surprise to you that the various parties we've been following throughout the series all come from their various locations on the map to converge on Golgotterath in this final novel.
All of the characters of interest are the same we saw in THE GREAT ORDEAL, but now we get the additional perspective of Malowebi, one of several decapitated heads newly hanging from the belt of Anasurimbor Kellhus. It's a good thing too, because the climax of the book revolves expressly around Kellhus, and we've been deprived of having him as a POV character since the end of The Prince of Nothing.
Every single one of Bakker's books, excepting only the first, has a section titled "What Has Come Before" at the very beginning, and it's telling that I've learned more about the events occurring within each of the books of this series by reading these summaries than I have when reading the books themselves. It is within these relatively few pages that I have come to see the brilliance and scope of the incredibly detailed canvas Bakker is painting. In short, it's breathtaking. He rivals Erikson, people, and Erikson literally destroyed my understanding of what the term "epic" means when applied to the fantasy genre.
THE GOOD, THE BAD, AND THE RED-HEADED STEPCHILD
My favorite part of this book was the fact that such a large portion of it (I'd estimate somewhere greater than 60%) was driven by the individual characters rather than the army of the Great Ordeal. Yes, there was still a ludicrously large part of the book that dealt with more army movements, soldier movements, names of generals, and waving flags than it had any right to, but there was enough of the characters here that I wasn't completely frustrated by the seeming pointlessness of it all. For all that the army was supposed to impart to the story, the sum total in my opinion is that it bogged down and diluted an otherwise engaging story.
My favorite portions of the book were definitely those that involved Achamian, Cnaiur, and Kelmomas. Yes, Kelmomas. That little guy ended up playing a major part in this book, and I was suitably impressed by it. In fact, with how important he was, I wish that Bakker had given even more page time to this youngest living son of Kellhus. He definitely deserved more. I still don't understand why we had to go through all of the White-Luck Warrior mess though. And the jury's still out about Proyas. He may come to bear in the next series, but I'm mildly doubtful at this point. Some of that doubtfulness revolves around the fact that I'm not entirely sure that he's even still alive.
In all, I wish this series had been significantly shorter. Fitting all of the good stuff into two solid books, like Bakker first suggested he might accomplish, might have been a fairly hard row to hoe. But three? Absolutely. Yeesh. He could cut out 90% of the army stuff and got it down to three books without much trouble. And yet, being on this end of things and seeing where the series ended, I'm actually kind of excited to see where Bakker might take us next. I know. Silly me. Hopefully, wherever he goes with it, it contains fewer multitudinous armies marching across expansive wastelands…
AS AN AUTHOR WRITETH, SO DOTH HE REAP
One of the surprising things I realized while I was reading this book was that for the first time in my memory I was reading a book where the writing was getting in the way of the story. That's not something I think you'll typically find in fantasy. Science Fiction? Likely. Literary Fiction? Most definitely. But rarely Fantasy, in my experience. I think that one of the reasons I've been having such a difficult time reading this second series, and why those "What Has Come Before" sections have ended up illuminating so much of the story to me, is because of just how complicated, and detailed, and intelligent the prose is.
THE UNHOLY CONSULT is nearly identical in every aspect to previous books in the series. If you liked them, you'll like this one. If you didn't, you won't.
I remember reading THE DARKNESS THAT COMES BEFORE and thinking that it was well-written. But I'm telling you, I went back and looked at the prose in that book, and it is well-written. BUT the writing in THE UNHOLY CONSULT makes THE DARKNESS THAT COMES BEFORE read like it was written by an elementary school student. Bakker has come a long way in his writing skill and technique, and I can't help but think that this is killing his ability to tell a convincing story. At least it feels that way to me. The writing, as impressive as it is, just keeps getting in the way.
HEY, WHAT ABOUT "THE PRINCE OF NOTHING"?
I've mentioned in a couple previous reviews that I would like to go back and re-read The Prince of Nothing series, and see if I still think it's as good as I remember. If the focus is actually on the characters, and if Bakker's story-telling has shifted in The Aspect-Emperor as much as I think it has. And although I didn't do that, I did crack open THE DARKNESS THAT COMES BEFORE and ran a spot-check on it. I read the first 10 pages or so, and then skipped 50 or 60. Then I read another ten. Wash, rinse, repeat. And you wanna guess what I found throughout? In every, single instance?
Incredibly character-centric storytelling.
There is a part of me that crows at finding this. It felt much like the time I went back and re-read the main sequence of the Dragonlance series again. Dragons of Autumn Twilight is the first book I ever bought with my own money. I was in 5th grade. And reading that series again in my mid-thirties was incredibly satisfying. Much like this was. Bouncing through THE DARKNESS THAT COMES BEFORE whetted my appetite, really. Now I want to go back and re-read them all even more.
WE'RE FAST APPROACHING THE DRAINPIPE, CAP'N!
There is a very specific reason why we have the book rating, "Books That We Love…and Hate". In my opinion, it's a rating on par with "Books That Are Mediocre". Say, a 3 out of 5 stars. Both of them. The difference being that those that get the previous rating, like this book, have so much awesome stuff in them that we can't help but like, or even love, them. And it's only those aspects of the book that we absolutely can't handle that pull the rating down.
I hope that what I've put up here comes across as a review that is just as honest, but maybe just a bit more accurate, when relaying my thoughts and impressions of the book. In truth, I liked it a little more than THE GREAT ORDEAL, but not enough for me to give it a different rating. If anything, Bakker has been consistent in the type of books he's been giving to us. I love the story he's trying to tell. I just can't help but hate how so much of it is relayed to me. I'm ridiculously conflicted about giving a recommendation for people to pick this series up, but in the same breath I can't help but send out exactly that. So, in like manner to my rating, a recommendation with reservations.
Here's to hoping Bakker gets back to his story-telling of old. Back to the characters. Back to the good stuff. Until then, I'm probably gonna keep gnashing my teeth about it all. Maybe I should invest in a mouth guard.
Recommended Age:

18+

Language:

Relatively little, but occasionally strong

Violence:

Widespread violence and depravity, oodles in other words

Sex:

A few strong instances