Review: The White-Luck Warrior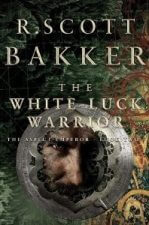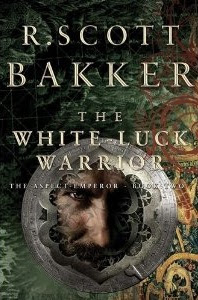 Amazon
How to start this one. [[sigh]] Seriously, I have no idea. This book was just such a massive disappointment. Well. That was actually easier than I thought it would be. Just say it, I guess. Now I can go have a breakdown.
THE WHITE LUCK WARRIOR (Amazon) is the second novel of Bakker's second trilogy set in the world of Earwa the Three Seas. The Prince of Nothing Trilogy is one of my favorite fantasy series. Both Steve and Nick are of the same opinion. After reading those first three books, I was really excited to hear that we'd be getting more of this story. Two more entire trilogies, in fact. I have to say, though, that after making my way through THE JUDGING EYE, my compatriots and I were less than enthusiastic about it (EBR Review). Regardless, I decided to reserve my own judging eye (eh? eh?) until a later date and continue with the series. Right now I'm regretting that decision quite a bit.

THE WHITE LUCK WARRIOR follows three main story-lines, much like its predecessor. We have the progression of The Great Ordeal, a massive, multi-national army pressing into the northern country, to where the evil of the Consult waits to be destroyed; the progression of Achamian and the Skin Eaters, as they drive toward Sauglish and what Achamian hopes will be the undoing of Anasurimbor Kellhus; and finally we have Kellhus's wife, Esmenet, who has been left behind to try and keep the empire together.
Bakker's prose is, of course, really well done—that's nothing new—so even the really dense chapters that have little to no dialogue in them, race past your eyes with ease. His use of italics and ellipses though… atrocious. Horrific. Ludicrous. It's like he was trying to make the book mysterious and somehow life-altering by using those two methods alone. Forget about the story, isn't this mysterious? Isn't this life-altering? Seriously over the top and destroyed my ability to enjoy what plot there was in the book. They got in the way BIG TIME!!!!!! and were COMPLETELY ANNOYING!!!!!! (Kind of like TextInAllCaps and LotsaExclamationPoints…)
The first half to two-thirds of the book is almost completely given over to travel across the wilderness, be it from Achamian's group or The Great Ordeal. In the case of The Great Ordeal, we learn the names of seemingly every captain and general and head honcho in the bunch. Names and titles and countries and over and over and over. And flags and standards and armor and UGH. Enough already. Give us some story! From Achamian and Mimara we get navel-gazing after navel-gazing thought as they plod on and on and… Granted, what else are they supposed to think about while traveling through the wilderness or the jungle or the mountains or wherever else they may be? Between these two story-lines, readers are getting The Slog of Slogs, indeed (a reference from the journey these two separate groups are taking). Sound interesting? Wait, there's more.
THE WHITE-LUCK WARRIOR was a disappointment /uglycries. There's just no way around it, and we hate having to say so. But we will, of course.
Thankfully, the entire book wasn't consumed by the Slog of Slogs. Outside of it, though, plot development felt very minimal. In the last 150-200 pages or so, things finally get moving. There's development of Esmenet's situation, which I enjoyed once things started happening, though the time spent on Kelmomas's storyline after everything goes down was disappointing in particular. After the slow plodding and detailed renditions of everything else in the book, the development of his character during this part of the story felt very rushed and like it had been given very little attention. In fact, he mostly just tells us what happens to the kid. That's a pity too, as after finishing everything it seems to me that Kelmomas is going to play a very important role in things, indeed. Perhaps the most disappointing was the extremely minimal role that the White Luck Warrior played in the book. After his introduction in THE JUDGING EYE, I had some high hopes, but the way he ended up being handled reminded me of how frustrated I was after finishing THE BRIAR KING (Amazon) and finding out the minimal role the title character played in that book. Of course, every book in that series was disappointing, but that's beside the point.
Then, surprise of all surprises, the climax of Achamian's story arc AGAIN revolves around another "tribute to Tolkien"? Are you freaking kidding me? After the end of The Judging Eye, I would have thought Bakker would go somewhere else for some source material, but no. Stick with the classics, I guess. Oh well.
I remember watching two separate interviews with Bakker. The first one was completed sometime during his process of writing the Prince of Nothing trilogy. He talked about how he'd write and rewrite the scenes with Kellhus, agonizing over whether or not he was getting the character right, as Kellhus was supposed to be so much more intelligent than anyone else. So much smarter than even the author that was writing him. Effort. Strain. Work. And I loved every bit of it. The second interview was taken just after The Judging Eye was released, I believe. I don't remember much about that one except for a single comment Bakker made, describing his writing process as "throwing a lot of sh*t on the walls and seeing what stuck". (That's a quote!) For me, that says it all. I'm done with Bakker. For those readers that can handle all the Slog for such little progression, interesting and good or not, I wish you the best. As for the rest of you? Stick with his Prince of Nothing Trilogy and then look somewhere else. This round just ain't worth the price of the ticket.
Recommended Age:

18+, as before with his stuff, though there's significantly less adult content this time around

Language:

Regular and strong

Violence:

Lotsa, lotsa

Sex:

A couple scenes, fairly strong