Review: Seeker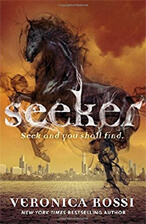 Amazon
It isn't the end of the world, but the Four Horsemen of the Apocalyse in their current incarnation as young men must use their new powers to stop the demon Samrael and save the incarnation of Famine from the rift where Samrael was sent at the end of RIDERS. Now in the second and final book of this duology, Daryn must find a way to save Sebastian–and do it without the sight, which she depended on to tell her the future.

Usually the plotline of a book like SEEKER would have been enough for a standalone story (with a few minor adjustments), but I rather like how Veronica Rossi is willing to go beyond the typical storyline and show us the aftermath of fighting evil. Often the big fight scene at the end doesn't go as planned, and in SEEKER, sure they accomplish their objective of sealing the demon Samrael into a rift where he can no longer hurt anyone. But Daryn makes a mistake and one of the four horsemen–someone who's become a dear friend–is sacrificed for the cause.
Daryn is sure she must go in after Sebastian to save him, but it's been months since the final battle, she's run off to Wyoming to find help from other Seekers who haven't lost their sight, certain that she must do the job alone; but it meant abandoning the other horsemen, including potential love-interest Gideon. Having spent the last few years dependent on her sight, now it seems to have left her, and she has no direction. As she waits for it to return, the longer Sebastian remains in the rift ion, and the harder it may become to find him.
Meanwhile, Gideon and the others have been looking for Daryn with no luck. Gideon in particular is upset at her disappearance and doesn't understand why, especially considering their blossoming feelings for each other. He hadn't imagined that, had he? The thing is, that he still has a lot to learn about Daryn, how her past has affected her, and how it still influences her actions. What Daryn doesn't understand is how the guys don't blame her for everything that went wrong, they only want to help, and how working in a team makes you stronger than working on your own. Eventually they do find Daryn and work together to find their lost friend, but I'll leave the details for you to find out. Hint: it includes cool horses.
SEEKER: It isn't the end of the world, but the Four Horsemen of the Apocalyse are out to find themselves a demon... and slay it.
Sure this book is about the adventure they have as they traverse dangerous situations in search of their friend, but this book's value is in watching as these Daryn and Gideon work through their issues. As the team travels through the rift to find Sebastian, they discover that the rift uses their inner turmoil to unsettle our heroes and make them question their inner troubles. Daryn, who's used to doing everything on her own, discovers that a situation where your insecurities are bared for all to see changes everything, and she must learn that strength can come from those who love her and not only herself. All this navel gazing means a lot less action than the first book, and made the pacing less consistent, but SEEKER is just not the same book as RIDERS.
Told from both Daryn and Gidon's PoVs, this time we learn more about what makes Daryn tick (she wasn't a narrator in RIDERS), but they're still the angsty teenagers we grew to like in SEEKER. Since the majority of the time is spent in Daryn and Gideon's heads, we don't go into much detail with Marcus, Jode, and Bas, which was my biggest sadness about RIDERS, I had been hoping to learn a little more about them, maybe even a PoV. The setting isn't anything groundbreaking, we don't learn much new about the horsemen or demons, and the plot is pretty straightforward–but it doesn't really matter because Rossi takes the story in a direction that leads the characters to a redemption better than SEEKER would have alone.
Recommended Age:

13+

Language:

A handful

Violence:

A few hairy scenes with non-gruesome deaths

Sex:

Innuendo and kissing