Review: The Hollow Boy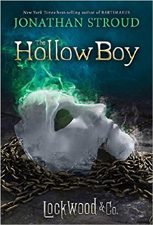 Amazon
From Amazon: "As a massive outbreak of supernatural Visitors baffles Scotland Yard and causes protests throughout London, Lockwood & Co. continue to demonstrate their effectiveness in exterminating spirits. Anthony Lockwood is dashing, George insightful, and Lucy dynamic, while the skull in the jar utters sardonic advice from the sidelines. There is a new spirit of openness in the team now that Lockwood has shared some of his childhood secrets, and Lucy is feeling more and more as if her true home is at Portland Row. It comes as a great shock, then, when Lockwood and George introduce her to an annoyingly perky and hyper-efficient new assistant, Holly Munro.
"Meanwhile, there are reports of many new hauntings, including a house where bloody footprints are appearing, and a department store full of strange sounds and shadowy figures. But ghosts seem to be the least of Lockwood & Co.'s concerns when assassins attack during a carnival in the center of the city."
Yep. This series just gets better and better.

Sure, I gushed about the first two books, but with good reason. They were clever, well written, and just plain fun to read. Stroud's command of the story and characters is something any would-be author should emulate, which is surprising coming from Middle Grade literature. We are elitist here, so I won't apologize for sounding snobbish, but so much YA and Middle Grade lacks the excellent prose and Balanced Storytelling usually reserved for a more adult audience. But a rare few do exist, thankfully–Dan Wells is in this category. So if you like Dan Wells' I AM NOT A SERIAL KILLER (EBR Review) and want to expose your children early to what good horror looks like, then this is the series for you.
One would think that the successes of Lockwood and Co. in the past they would finally be getting the praise they deserve. Alas, they're still considered too small to be any good, especially since the larger agencies run by adults have the manpower necessary to take care of serious hauntings. For this reason Inspector Barnes doesn't include Lockwood in the multi-agency work in Chelsea, where an outbreak has led to the evacuation of entire blocks in London. What would a small-time, three-person agency really have to offer in a situation like this?
THE HOLLOW BOY sweeps us quickly into the story and carries us along into the exciting ending. Don't miss this series. Yes, even you adults.
Turns out, a lot, which is too bad because the mystery could have been solved much faster if only he'd given them the regard they deserve. Of course.
Stroud does well avoiding making the series feel episodic, and instead builds on what's come before. Here we have the usual snark and antics amongst our heroes, but there's more to the story than that. In this book we explore Lucy's Talent in talking with ghosts and the benefits and dangers involved. We learn more about Lockwood's past and the loss of his sister. Told from Lucy's observant (and opinionated) PoV, we watch as she struggles to understand Lockwood as well as herself. Is she wrong in thinking that communicating with ghosts is the best way to understand the Problem? Is Lockwood right that talking to them is dangerous and a waste of time?
Another layer of worldbuilding is spread before us as we read THE HOLLOW BOY and learn more about why ghosts behave the way they do, what it takes to fight them, and sometimes that the influences of living must be taken into account more than they are. Stroud sweeps us quickly into the story and carries us along into the exciting ending. Don't miss this series. Yes, even you adults.
Recommended Age:

10+ (although may be too intense for more tender-hearted children)

Language:

None

Violence:

Some fighting but it's usually against ghosts; death and loss is a frequent theme

Sex:

None