Review: The Screaming Staircase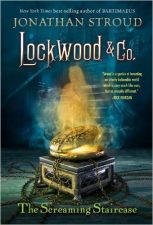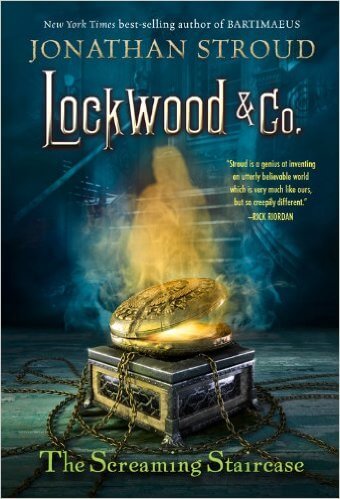 Amazon
Lucy can hear ghosts. Lockwood can see them. George is tactical support. Together they are Lockwood and Co, ghost hunters extraordinaire. Well, competent if not extraordinaire. Okay, maybe they're just barely getting by.
You see, only children can see or hear ghosts, so when ghost hunters get too old to hunt them, they lead the teams. However, Lockwood and Co don't employ adults. They're three kids who live in the house Lockwood inherited from his parents. DERPAC (Department of Psychical Research and Control–run by adults of course) monitors all companies that deal with Visitors–aka ghosts–and believe that children gallivanting around without adult supervision are suspect, even if they are licensed.
DERPAC's agent Barnes feels justified in questioning Lockwood when their most recent job results in destruction of a client's property, which is a strict no-no. Now they're in danger of losing the house, the business, and any means of gainful employment. What's a ghost hunter to do?

Told from Lucy's PoV, THE SCREAMING STAIRCASE (Amazon) tells the story about how she joins Lockwood's outfit, her sordid past, and her opinion about their present circumstances. Her narrative is flavored with her opinions: Lockwood is dashing, George has questionable hygiene, the house is better than the dump she grew up in. Lucy understands that it's her rare ability to listen to Visitors that will get her ahead in life, and she's determined to do what it takes to accomplish the work she was born for. But it's easy to remember that she's still a kid, who messes up and doubts herself and her ability. Through her eyes it's easy to like Lockwood, his energy, optimism, and quick-thinking. Although Lucy and George are at odds, we can't help but appreciate his contribution to the whole endeavor.
The story takes place in a modern-day London where the Visitors showed up in force fifty years ago, and have changed society as a result. Iron flanks doorways. Ground is salted. Lavender is hung. No one goes out at night. And no one tries to touch a ghost, for that means death from the resulting decay. It's a world where no one is completely safe and it's the children who are the front-line warriors. And despite it being fifty years since the Visitors came in force, all they've really learned is how to repel and get rid of them, not why they're here.
Lucy can hear ghosts. Lockwood can see them. George is tactical support. Together they are Lockwood and Co. So much fun. So much greatness. Read it!
Stroud's prose is a pleasure to read, it's crisp, wry, and funny. The story moves quickly, even though we jump back and forth in time. He teases us along, and we think at first the answers to the mysteries are obvious, until they uncover new information and we realize there's more to the story. The mystery and climax work together so well that the excitement, explanation, and wrap-up makes for a satisfying ending.
Your kids will enjoy this book and so will you.
Recommended Age:

10+ but dark themes may frighten the more tender-hearted

Language:

None

Violence:

Peril, death, and blood dripping from the ceiling

Sex:

None