Review: The Motion of Puppets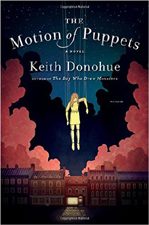 Amazon
Theo and Kay are newlyweds livings in Quebec while she spends the summer working as a performer at the cirque and he's on sabbatical to finish a translation for a book. They're a sweet couple, each with their own pursuits and personalities, but their relationship works.
And by the end of chapter 2 Kay has been turned into a puppet.

When I got the promotion email from the publisher that Keith Donohue had a new book out, I was excited. Actually, while he's written several books, I've only read one other, THE STOLEN CHILD, which came out over a decade ago. Sometimes I still think about that book. Donohue was able to make the story feel like it was possible–despite the horror of it–and the characters' struggle was authentic.
THE MOTION OF PUPPETS is about Kay's experiences as she begins to realize the horror of her situation. It's about Theo's struggle to find Kay, documenting his isolation and desperation. In many ways PUPPETS has similar themes to STOLEN CHILD: of separation, abandonment, and not belonging.
Donohue's characterization is accessible in the best ways, that even though we aren't like these people, we can understand their behavior and motivations. It's hard for me to think that I would have been as accepting of being turned into a puppet as Kay, but then again the magic of the transformation seems to have dulled Kay's memories and attachment to the outside world. Instead we watch as she becomes accustomed to the Back Room where the other puppets are stored, and where every night at midnight until dawn they come alive.
Kay makes new friends among the puppets, and they are a motley crew, including the clown Nix, the insane Noe who keeps trying to escape, the Devil, the Queen, the Worm, and others. Theo makes new friends in the outside world as he tries to find Kay and discover what happened, including the stage manager where she worked, Egon, with his strange taste in art and sympathy for a lovesick man in despair.
The story is straightforward as their parallel lives move forward: Kay's puppet masters moving to perform in different cities, Theo returning back to work when all leads in Quebec dry up. Until Egon discovers clues in the old building where the puppets had been housed.
Theo and Kay are newlyweds in Quebec. She's a cirque performer as he works to translate a book. By the end of chapter 2, Kay has been turned into a puppet.
As usual, Donohue's prose is beautiful without attracting attention to itself. The title matters here, too, as Theo's project is about a man who studied the movement of living creatures, including humans, and how he used stop motion in his studies. The comparisons to the puppets only makes their not-quite-human movement all the more creepy. He uses the words to build a strange world of puppets and characters you can't help but empathize with. Which is what makes the ending so hard. THE MOTION OF PUPPETS didn't end like I thought it would, but then Donohue is, if anything, true to his story.
Equal parts horror, love story, and tragedy, THE MOTION OF PUPPETS will make you think about what we're really willing to do for love. And sometimes, if love is enough.
Recommended Age:

15++

Language:

A handful

Violence:

Fist-i-cuffs and death

Sex:

Referenced