Review: Larcout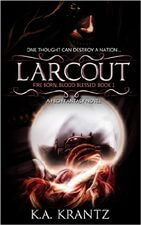 Amazon
Vadrigyn is a demi-god. Kind of. I'm not really clear on that, but I am clear on one thing: she can kick your butt.
Being raised by a brutal (inhuman Morsam) father and an insane (human witch from the Jeweled Nation) mother in a harsh environment has made her stronger than the usual human. It helps that fire courses through her veins instead of blood, she's physically stronger, and venomous parasites inhabit her body and instantly kill anyone who touches her.
But what differentiates Vadrigyn from the other Morsam is that she tries to perform the will of the gods and avoids killing indiscriminately–in an attempt to secure her freedom from the Morsam lifestyle. As a result the gods have decided to test her in the Jeweled Nation where she will undergo her Trial of Identity, and in the process learn about her magic and challenge her innate need for death and destruction.

LARCOUT is one of the books given to EBR for Mark Lawrence's second blog-off, and I admit being prejudiced to thinking most of the entries would be bad, especially considering my experience with last year's blog-off. So to find a book with focus, creativity, and good writing was a pleasant surprise. Is LARCOUT perfect? No, there are definitely areas that need work, but on the whole it was a fun book to read.
Vadrigyn is our PoV character and is picked up from her hazardous life with the Morsam to be dropped into political intrigue among the Jeweled Nation (which turns out to be as dangerous). She learns that her mother Ephinnia was a daughter of nobles and believed to be the cause of a fire that destroyed thousands of homes and lives; and as a result Ephinnia was banished from the city to perish in the desert. Everyone seems pretty sure that Vadrigyn will do something equally terrible, especially considering the recently acquired ability she inherited from her mother: she can bend minds to her will. It is her Trial of Identity to learn to control her ability and to do it in a way that appeases the gods.
Vadrigyn in LARCOUT is a demi-god. Kind of. I'm not really clear on that, but I am clear on one thing: she can kick your butt.
Along for the ride is a varied and sometimes confusing cast of characters. There are her cousins Grit and Sana who've spent their youth being maligned by the rest of the nobles and convinces Vadrigyn that they must watch each others' backs. There's her mentor Zyrn, who insists she needs to learn people's needs and not simply their behavior if she ever hopes to be able to be able to bend minds. There's a king, a queen, a couple of princes, and a young man named Roshan who doesn't seem deterred by her fangs. Compared to the world Vadrigyn grew up in, this place is foreign and confusing: women are treated like weak creatures, servants live in the walls of noble houses, when they die the people turn to sand. She despairs she will ever be able to understand them. For us, though, Vadrigyn can sometimes be hard to read. Krantz doesn't go deep into her PoV's emotions, although her motivations are strong enough to compel the story forward. Still, Vadrigyn's responses and behavior was consistent and believable across the entire book, which is no small feat considering the complexity of her background.
The prose is super tight and easy to read; there is a big learning curve for the first couple of chapters, but stick with it and you'll be rewarded. There are a few blips in the flow where Krantz's prose gets too terse and I had a hard time following character movement, but on the whole that's a small issue compared to the consistent pacing, engaging plot, and exciting action scenes. There were a few points in the middle of the novel where it got bogged down by political chatter. I wasn't completely clear on some of the minor characters, so I was confused about the convoluted explanation of their motivations and how it affects the story as a whole, and as a result I got a lost in how Vadrigyn discovers the mystery of her mother's crime 20+ years ago. Ultimately these things didn't affect my enjoyment of the book.
This book is going to the next round internally here at EBR, so we aren't handing it off as our final pick to Mark Lawrence yet, but that shouldn't stop you from picking it up on your own. It's worth the time for its creativity alone.
Recommended Age:

14+

Language:

Minor instances

Violence:

Vadrigyn is inherently violent, so, yeah, but it isn't excessive

Sex:

Referenced and a brief scene