Review: Fall of Light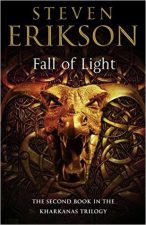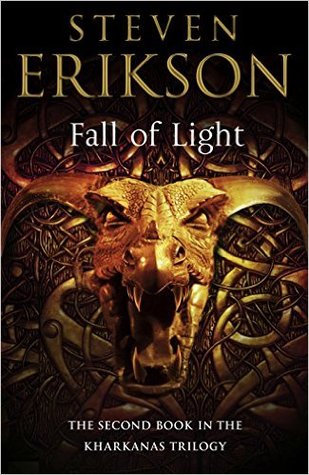 Amazon
I'll be honest, Steven Erikson's novels have become increasingly difficult to review. Not because they are bad–on the contrary, Erikson's works are consistently excellent in my opinion–but because I feel like I end up making many of the same comments. Well, here we go again.
Another Erikson novel, another fantastic read.

FALL OF LIGHT (Amazon) is the second novel in the Kharkanas Trilogy, and it picks up right where FORGE OF DARKNESS (EBR Review) left off. The world is in the midst of civil war, and everyone has an angle. This exploration of the civil war–and more importantly, the characters involved in the civil war–make up the majority of the story, while setting us up for the forthcoming conclusion in book 3.
Right out of the gate, I think that Erikson's fans will really enjoy this novel. There are so many great moments for those fans that have be loyal readers: cameos, references, and easter eggs abound. It's simply a joy to read a novel set in a continuum that has SO much history, and catch the little things. Personally, I just can't get enough of the story of Anomander, Draconus, and the like.But what really impressed me was the evolution of the story lines involving Mother Dark and Father Light. The "relationship" here–the desires of both parties, and the desires of those individuals surrounding these two parties–is terrifically explored. The real genesis of the Tiste Andii and Tisti Liosan obviously feeds directly on this relationship.
What FALL OF LIGHT boils down to, for me (and forgive me for being overly simplistic for the sake of no spoilers), are the big Erikson "event" moments paired off and contrasted against very deeply personal moments. Much like in FORGE OF DARKNESS, the focus in FALL OF LIGHT falls more squarely on the personal, and through these individuals, we get the bigger picture of the massive convergences happening. What this amounts to is a far more Shakespearean tone. Comedy, love, and tragedy all get thrown together.
Let me share a very early example of the above change in narrative that you see in FALL OF LIGHT. At the very beginning of the novel, as two armies face off, a girl chases down a a boy and beats him to death. It is shocking, and tone setting. It also serves as foreshadowing and a light summary for how the battle is going to go. On a deeper level, it shows the terror and awfulness of war, and how it can affect every individual, young or old. With that tiny scene, we understand the tragedy the rest of the novel will present. This is one of a few scenes that illustrate and narrate the story, without spending a hundred pages force-feeding us battle scenes. It's is absolutely brilliant.
Now this doesn't mean that there aren't moments of light and humor in the novel. That's simply not Erikson's way of writing. Erikson has ALWAYS included light as a counterpoint to darkness in his work (and on so MANY levels), and FALL OF LIGHT is no exception. Because without the contrast, neither dark nor light mean anything. This is especially important in this novel, where we have the literal conflict between Mother Dark and Father Light, as well as their respective followers.
FALL OF LIGHT: Another Erikson novel, another fantastic read. If you're a fan of his, as we are, you're going to love this book, and likely the whole series
I loved FALL OF LIGHT. I loved the characters. I loved the politics. My only criticisms are, first, the over philosophizing by nearly every character. Erikson was already doing this in books 9 and 10 of Malazan Book of the Fallen, and even more so in FORGE OF DARKNESS. It lends a more self-evaluative and introspective tone to the novel, which is totally fine for the most part. But there were definitely moments where I wish it would have pulled back just a smidge. Second is the understanding that FALL OF LIGHT likely won't sway a ton of readers. If you like Erikson, you'll like this book. If you don't (which I'm not sure why you would read this novel) this won't change your mind.
As for me, as I said above, I feel FALL OF LIGHT is a wonderful novel. I loved it. I utterly adored the progression of the world, characters and storytelling from FORGE OF DARKNESS into FALL OF LIGHT. This series, while a prequel series, no longer truely feels that way. FALL OF LIGHT makes this feel like it's own beast, which is something 99% of all prequels struggle with.
FALL OF LIGHT was a long time coming, but it was absolutely worth the wait.
Recommended Age:

17+

Language:

It's pretty much in  line with the prior novel, which means there is strong language, and in higher volume that the Malazan Book of the Fallen

Violence:

Well, yeah. But it didn't feel nearly as brutal as FORGE OF DARKNESS

Sex:

Less than the prior novel. Nothing super explicit, but there are some moments (hence the age rec)