Review: Dead Heat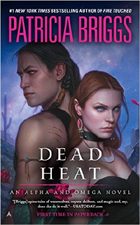 Amazon
Anna and Charles have been married a few years now, and here we are in book 4 of Patricia Briggs' Alpha and Omega series and it finally feels like these two are hitting their stride. They've had several bumps in the road over the years as Anna has learned about herself and her rare abilities as an omega werewolf. To Charles' surprise, he's found happiness and a contentment with someone who sees him for what he really is. And it's because they've come so far that they're able to face their greatest challenge yet: deciding whether to have a child together.
Oh, and facing a powerful fae Grey Lord.

Charles' father is the Marrok, the Alpha of all alphas in North America. He's what keeps werewolves safe in an era where the general public knows they exist and are watching for the smallest instance of threatening behavior. Charles is his father's enforcer. He metes out justice when any werewolf–even alphas–disobey pack laws. Such as when Anna's original alpha had her forcibly turned in order to hide the deteriorating sanity of his own wife. Thanks to Charles, Anna no longer has to suffer under an abusive pack; the only positive is that Anna can empathize with those who struggle with the transition from human to wolf.
Usually Anna travels with Charles on his assignments, but this time they're going to Arizona to visit old friends of Charles', in order to shop for Anna's birthday present: a new horse. But while there they discover that a dangerous fae is replacing children with simulacrums. Usually Charles wouldn't involve himself where the fae are involved. Like the werewolves, the fae are "out," but they don't blend with human society as well as the werewolves do, and as a result are resentful of the limitations put on them. Such as not stealing other people's children.
But it seems that the fae are forcing the werewolves to take sides as a dangerous cold war with humanity is starting. Unfortunately for the fae, they inadvertently choose the granddaughter-in-law of the local pack's alpha, and targets children–something Charles would never let happen.
If you're a fan of Patricia Briggs' Mercy Thompson books, then the Alpha and Omega books are for you. The series started with CRY WOLF. It isn't the first time we've met Charles, as he appears in Mercy's books a few times. But we're introduced to Anna, and watch as their relationship blossoms. They are two very different people. Charles is the world weary hitman for his father, dominant and deadly. And Anna is the formerly abused, but resilient omega who has a talent for healing the emotional pain of the werewolves around her. The series started out a little rough as Briggs got their story going. Don't get me wrong, the series is great, but it doesn't have the strength that the Mercy books have. Until DEAD HEAT.
Here there's more to the repercussions of Charles and Anna's actions than what's on the outside. They work well together, and understand each other in a way that strengthens them: the sum of the whole is more than the sum of the individual parts. They work quickly to save the local alpha's family, but also to discover the fae who did it and stop him from doing it again. They do it knowing what it will mean–that the werewolves are siding against the fae–even though they don't necessarily want to take sides.
Anna and Charles have been married a few years, and it finally feels like this series is finally beginning to hit its stride.
Other than their relationship, my favorite part of this book was the inside look at the transition of human to wolf, and all the gory details in between. We get to watch Charles as he turns a woman on the brink of death, and Anna as she helps guide her through the painful transition. Briggs does a great job with her world building, it's never an afterthought, with the magical details all integral to the storytelling. As with the Mercy Thompson series, Briggs builds on all that's come before, revealing more in each book about this amazing world they live in.
Briggs's crisp prose and fluid pacing is as evident here as in her previous books. I really enjoyed DEAD HEAT (I read it so quickly I may go back to read it again to soak in all the werewolf goodness) and am excited to see the how she deals with a fae cold war in the future installment.
Recommended Age:

15+

Language:

Minor

Violence:

Yes, werewolves have a temper and things tend to get bloody

Sex:

Referenced and a brief nonspecific scene
If you're liking this series and haven't read the prequel story yet… check it out here: ON THE PROWL (this anthology contains the short story prequel)