Review: Poseidon's Wake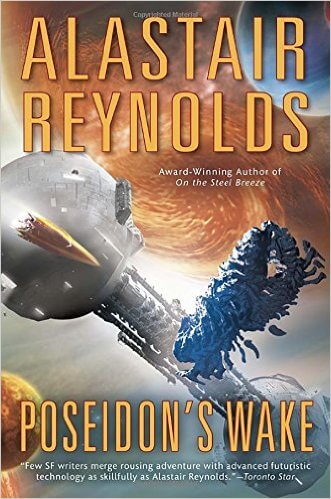 Amazon
Some of the main drives, I believe, of the Science Fiction genre are to instill in the reader a sense of awe and wonder and introduce the idea of the ubiquitous question: What if? Sadly, I have to admit that I've never really had that experience in my reading of Science Fiction. There are times, however, when I take the opportunity to stop and just stare up into the starry night sky. It is during those times that I have absolutely felt that sense of awe and wonder and have begun to speculate just what might be up there amidst the stars and planets and vast, sprawling majesty of the universe around us. I've always wanted that same experience when reading a good Science Fiction book. I just haven't ever gotten it. Until Alastair Reynolds wrote this book and gave me one.

POSEIDON'S WAKE (Amazon) is the third book in the series named Poseidon's Children by Alastair Reynolds, and as difficult as it may be for me to accept it, is the last book in the series as well.
So, I honestly had no idea where this book was going to end, or go, or even start for that matter. The previous two books in the series have almost been stand-alones in that the ideas and stories presented in them have been pretty self-contained. Granted, the storylines connect somewhat, and they definitely center around the Akinya family, but there were no over-arching concepts really except for stretching the boundaries of space exploration. Definitely no "bad guy", which was refreshingly awesome to find. Even the big "oh wow" moment at the end of STEEL, I was pretty sure would be absorbed into the background of the generation-spanning story told here.
Goma Akinya is the daughter of Ndege Akinya, whom we met in ON THE STEEL BREEZE as the young child of Chiku Green (one of the three clone-splits of Chiku) as she travelled in the spun-up asteroid generation ships that Earth sent hurtling through space toward the newly-discovered planet Crucible. She's lived on Crucible for most of her life and has been continuing to work with the Tantors (intelligent elephants) brought from Earth. Although, there were few enough of the magnificent beasts that they were unable to sustain a viable population. So, through mating with other mundane elephants, their intelligence as a species has trailed off to be nearly nonexistent. Her mother, Ndege, is under house arrest after having accidentally killed hundreds of thousands of people in the orbiting generation ship Zanzibar while experimenting with the massive Mandala on the planet's surface. When a tight-beam transmission from a relatively-far and supposedly uninhabited star system, sends the two words "Send Ndege" toward Crucible, it gets everybody's attention, and a star ship, the first of its kind to be built by Crucible, is sent to investigate. But because Ndege is so old, Goma volunteers instead to travel in her place.
Kanu Akinya is the son of Chiku Yellow (another of the three clone-splits of Chiku) that we met in STEEL and has been living on Mars as an ambassador to the machine intelligence that has developed out of the evolvarium that his ancestor, Eunice Akinya, seeded back in BLUE REMEMBERED EARTH. He's at odds with those from Earth that don't trust the machines due to a deep-seated fear that grew from their prior poor history with artifacts (artificially intelligent entities). A massive accident on the surface of Mars leaves him nearly dead, but the machines are able to repair his body and essentially bring him back to life. After these events, his impartiality comes into question and his ambassadorship is revoked, leaving him very few good options but to return to Earth. However, the machines might not have been as graciously generous as it first seemed.
How awesome is it that I can give a summary of the story's beginning that is so straight-forward and just jam-packed with goodness? In my book, that is a remarkable feat to accomplish. There is also a level of intelligence and sophistication in Mr. Reynold's writing that is quite high, and it utterly latches into me every time I read his books. At the same time, he handles his characters and their emotions and motivations with a deft hand, weaving their stories amongst the larger scope of the novel in a way that never makes me question them. No man-behind-the-curtain moments anywhere. Overlaying this is an absolute plethora of fantastical ideas and intellectual constructs that affect his characters to varying degree, but never cease to intrigue me.
POSEIDON'S WAKE as a book and the trilogy as a whole, have been some of my favorite stuff from Alastair Reynolds. I can't say enough good about it.
This book grabbed me from the get-go, but somewhere around page 100, it became a book that I absolutely did not want to put down. Despite the fact that the pages are actually quite dense, the story moved along at a very good clip; being descriptive and telling where it needed to be, and low-level where it could. Characters were great; a huge plus in this genre. Even more large-scale ideas got presented. In fact, one of those whopper ideas came at about three-fourths of the way through the book was so eyebrow-raising for me that I temporarily had serious doubts that this would be the last of the series, as it was on par with the eye-opening revelation found in ABADDON'S GATE (EBR Review). Mr. Reynolds could easily return to this universe in the future and explore some more. In fact, I'd love to see that happen.
This book specifically, and the trilogy as a whole, has been some of my favorite stuff from Alastair Reynolds. I can't say enough good about it. In the end, I only have a single bit of feedback for him:
Thank you for keeping the elephants in the story. They were perfect.
Don't miss this one. Well worth the ride.
Recommended Age:

16+

Language:

As usual, very little, but strong at times

Violence:

There is one somewhat gory death aftermath, and the characters handle some large-scale death

Sex:

None to speak of