Review: Ash and Silver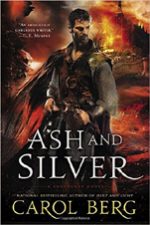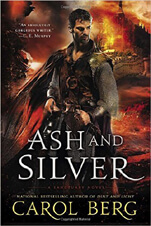 Amazon
I've been waiting anxiously after the events of DUST AND LIGHT (EBR Review) to continue the series, and finally I can know what happened to Lucian in ASH AND SILVER (Amazon).
Turns out that his struggles in DUST were just the beginning.

It's been two years since the closing events of DUST when Lucian was whisked away from the city after the devastating revelations he made about the Registry–revelations that put his life and his sister's in danger. He agrees to go to a refuge without really knowing what he was agreeing to. It turns out to be Evanide, an isolated citadel where men who can wield magic are molded into warriors. His memory was wiped when he entered so has no recollection of his past or even his real name. As the men of Evanide go through their training to become knights they are sent on missions that protect the weak and forward the cause of justice.
On Lucian's most recent mission he is visited by a woman who knows him and he is compelled to learn more despite the lies he must tell to his senior officers. Soon after, he's brought in to the Knight Marshal's office to meet with Damon, a Registry curator whose presence at Evanide causes Lucian nothing but trouble. Damon has an unexplainable hold over the Marshal, and despite being an outsider determines some of Lucian's missions. Strangely enough these missions lead Lucian to two of the three brothers vying for the Navronne throne, and which show him the horrible realities about the princes and the lengths they will take to obtain the throne.
I wish I could tell you more about the story, but it would mean spoilers, and it's too awesome a story for me to give away what happens.
Told from Lucian's first-person PoV, he continues to be the honorable man who is willing to do the hard things necessary to do what's right–even if it means risking his own life. It's easy to admire Lucian's perseverance when it seems everyone is conspiring against him. It's interesting to watch as he interacts with people and tries to discover their true motives; sometimes his conclusions are right, sometimes they aren't. We see old friends from DUST as well as get to know new ones. These characters all rotate around Lucian's central story; however, while we hear little about their background, they aren't uninteresting and are easily identifiable.
As in DUST (and in her Collegia Magica series), Carol Berg's worldbuilding is in top form. The magic takes center stage here. She deals with the Danae (faerie) and their magic tied to the earth and nature. There's Lucian's dual bents (bent=an affinity for a particular kind of magic; it's rare to have two and it's believed that people with dual bents go insane), which because of their nature gives him the particular ability to travel between this earth and the Danae home. This book deals more with the magic involved in combat, compared to the magic in DUST that dealt with history and art. We learn about how Lucian's magic is both a blessing and something others fear. What he's learned at Evanide over the past two years has only made Lucian stronger both magically and physically–and he uses everything he's learned to try to overcome all who would try to use him for their own ends.
I love the weave of twisty revelations, self-discoveries, and mysterious motivations in ASH AND SILVER. Pair that with Berg's beautiful prose it's a win.
Evanide is the hub of all things that happen in ASH AND SILVER. We learn about its structure and purpose. Lucian considers it his home and a bastion of honor. The outside world is in a state of chaos as the war of succession rages on; his missions show us this chaos and it's easy to see that despite the hard training at the citadel why he considers it a refuge. We learn about other cities, including a central theme first shown in DUST, and why the decisions of others require Lucian's help.
The story moves at a pace similar to DUST. Despite more action, Berg's prose gives the action less power compared to others, such as the flashy Brent Weeks. This does not bother me. I love how she weaves a story of twisty revelations, self-discoveries, and mysterious motivations. Pair that with her beautiful prose and ASH was a delight to read. You could read ASH without having read DUST, but I don't know why you'd want to. They are both worth the time, and with this duet both done, you can read one right after the other.
Recommended Age:

15+ (more for comprehension than content)

Language:

None

Violence:

A fair amount of fighting; some bloody deaths

Sex:

Referenced