Review: The Silver Ships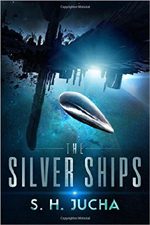 Amazon
Seven hundred years ago humans took to the stars after Earth's resources could no longer support the population. The colonist ships headed to different systems and lost communication with each other. Until one fateful day when tug captain Alex Racine discovers a derelict ship of unknown origin. He quickly learns that the ship is run by an AI, that some of the crew are in stasis… and that it came from a completely different system from his own. The superior technology fascinates him and he assumes it must be alien, until the crew are awakened by the AI computer and he discovers that they are descendants from another Earth colony ship.
And that the reason their ship was damaged and many of their crew dead is because aliens had attacked them.

THE SILVER SHIPS (Amazon) by S.H. Jucha is the first of a projected five-book series about Alex–from the New Terra colony–and his new friends the Méridiens, including the beautiful Renée, whose family owns the ship Reveur. Alex wants to make sure the Méridiens can not only return home safe and sound but also be able to protect themselves when they do. As a pacifist society, they were sorely unprepared for the silver ship that attacked them, and the rest of their people are at risk.
Alex takes it upon himself to be the intermediary between the New Terran government who sees the advanced technology as a godsend, and the Méridiens who are dependent on the goodwill of the New Terrans for the repair of their ship. As he works with the Méridiens, Alex comes to the conclusion that he's more comfortable with Renée and her people than he is with his own, and that when they return to Méridien, they will need someone who can help them fight the silver ships.
THE SILVER SHIPS looks sleek, but the writing is anything but. This despite an interesting premise and believable technology. Really too bad that it flops.
Despite an interesting premise and the believable technical aspects presented in the book, I had a hard time truly liking THE SILVER SHIPS. I could give you a veritable laundry list, but for the sake of brevity, I'll boil it down to two main problems: flat characters and boring plot.
Alex is a genius. He's a great mathematician and engineer. He's spent the better part of his adulthood (he's in his mid twenties) as a tug captain, hauling asteroids with water to needy planets. He's a loner with terrible social skills, no luck with the ladies, and a healthy disrespect for authority. So how would someone with these characteristics become an important player in the New Terran-Méridien exchanges? He solves every problem. Everyone likes him. He's handsome. He knows exactly what to do every time with everything. He's perfect. Too perfect. I daresay Alex is a Marty Stu character that the author tries to give flaws to, but which are conveniently waylaid as the story progresses. Even Renée is perfect in her ability to understand, appreciate, and anticipate the needs of Alex as he becomes integral to life on the Méridiens' ship. Needless to say theirs becomes a love story–unfortunately it's bland, which did not endear this hopeless romantic. The secondary characters don't fare well, either, more stock actors than anything. The antagonists have the most personality, but their inconvenient opinions and behavior are slapped down by our super smart Captain Alex who is apparently also perfect at handling naysayers.
The novel starts off with a bit of excitement as Alex discovers the ship and begins his exploration. We're introduced to the Méridiens and learn about their world, culture, and technology as well as about the origin story of the New Terrans (warning: infodumps). This isn't uninteresting. Unfortunately, as the story progresses the pacing suffers. Jucha feels the need to give us a detailed account of how the New Terrans and Méridiens interact, negotiate the transfer of technology and assistance, as well as societal concerns (New Terra is as close to a socialist utopia as I've seen–making the assumption that the government in power has only altruistic intensions) that would result from an influx of advanced technology. This makes the story soooo slooowwww. Nothing happens. If you like the nitty gritty of how an exchange of ideas would play out, then great, this book is for you. But for me this book felt like a technical manual, where everything works out because those in charge are perfect and know exactly how to run everything.
There are other issues such as the jumpy/telling omniscient narrative, high school level drama, politically correct commentary, copyediting errors, cliffhanger ending, complete lack of tension, etc. I'm not so interested in wasting my time with book two if there's going to be more of the same.
Recommended Age:

16+

Language:

None

Violence:

Space battle and death, but bloodless

Sex:

Referenced and a brief scene