Review: Silverblind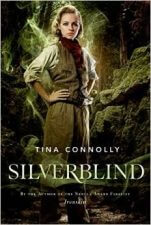 Amazon
More than a decade after the events of COPPERHEAD (EBR Review), Jane and Edward's daughter Dorie has graduated from school and is ready to strike out on her own and find work. She figures her experience studying mythical beasts in the field coupled with her college degree will make her the perfect candidate to work for the Queen's Lab.
Unfortunately, all her interviewers see is a beautiful young woman.

Dorie lives in a place and era where women are protected from difficult and dangerous things like field work, no matter how well educated and experienced they are. They suggest she work as a liaison between the lab and donors, but it's not what she wants. Disappointed, she returns home rejected and hatches an ambitious plan–she will use the magic from her half-fey ancestry and make her look like a boy.

Dorie does what she planned and it works! Perhaps a little too well, because when she is partnered with her estranged cousin Tam, he doesn't recognize her. On their first assignment they retrieve wyvern eggs and all Dorie can think about is how she can tell him who she is without him freaking out and being angry with her for what she did when they were kids. When Dorie discovers what the Queen's Lab is using the wyvern eggs for, she is disappointed that they won't use them to help people who need to be cured from fey curses during the war. She decides to take matters into her own hands, and Tam volunteers to help.
As in the first two books in the series, our main PoV character is a woman of courage and has a sense of what is right–even when it isn't the popular or safe thing to do.  Dorie wants to do the right thing, but struggles to know what that is because of her part-fey heritage, from which she's inherited a sense of mischief. I have really enjoyed Connolly's writing. She has great characterization, with people who struggle to understand not only the world around them but their own motivations. Jack is Dorie's roommate, Stella the dwarven friend, and of course Tam, the one person who Dorie wishes would think well of her. All of these secondary characters are easy to visualize and like.
In SILVERBLIND Dorie has graduated and is ready find work. Unfortunately, all her interviewers see is a beautiful young woman. A solid, fun ride.
SILVERBLIND has more action than COPPERHEAD did, and as a result the pacing feels quicker. We get to see wyvern, the fey, and other fantastical things. We learn new concepts about magic and perhaps where the fey came from. Nothing in-depth, but still important to the story all the same.
Connolly's books are fun to read, with interesting characters, stories that engage readers, and a world that would interest the romantic in all of us.
Recommended Age:

14+

Language:

None

Violence:

Some

Sex:

Vague references to sex and homosexuality