Giveaway: The Very Best of Kate Elliot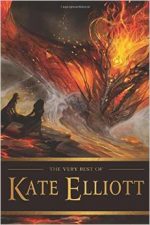 Updated 2/23/2015: This giveaway is closed. Barry S from Bedford is the winner.
If you've read any Kate Elliot, you know she's a versatile and creative writer. THE VERY BEST OF KATE ELLIOT (Amazon) is an anthology of previously published short works and one new one. We skimmed through these stories and think you'll enjoy them.
To enter the giveaway:
1. Email us at elitistbookreviews@gmail.com
2. Include the following in the subject line: Kate Elliot Giveaway
3. In the body of the email include your name and address.
The winner will be posted on Monday, February  23rd, and mailed out the same day. Good luck!