Review: Miss Peregrine's Home for Peculiar Children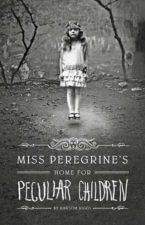 Amazon
Jacob's grandfather was kind of an odd guy. When Jacob was a kid, his grandfather would tell him all sorts of stories about the kids in the Welsh children's home he lived in after escaping pre-war Europe. Then he would show Jacob all sorts of strange photographs (see cover picture of levitating girl) of the other peculiar children he lived with. As Jacob grew older he began to realize that these stories couldn't have been memories, but were tall tales to entertain an imaginative grandson.
Or were they?
After witnessing his grandfather's death, Jacob's parents are convinced that it was so traumatic that he hallucinated the monster-like creature Jacob saw. Jacob is able follow the clues of his grandfather's last words, and convinces his father to take him to the island where Miss Peregrine's home for children resides. Instead of answers, Jacob instead finds an abandoned relic from 60 years before. While there he meets someone from his grandfather's past, and Jacob begins to realize that maybe his grandfather wasn't completely bonkers after all.

MISS PEREGRINE'S HOME FOR PECULIAR CHILDREN (Amazon) is Ransom Riggs' debut novel, and it's quirky fun and an enjoyable read. The best thing about it is Riggs' prose, which is beautifully descriptive and succinct. He tells the story with excellent forward movement, it's easy to visualize the people and places, and with a deft hand at unfolds the mystery of Jacob's grandfather, unlike the infodumping and contrivances from my recent review on CONQUEST (EBR Review).
MISS PEREGRINE is told from Jacob's PoV, obviously looking back because the voice feels older and he uses words no teen would utter. I liked Jacob's narration, it felt genuine and I understood him and his motivations. The secondary characters, including Jacob's father, felt less realistic, as though Riggs is trying too hard to make them memorable. I didn't dislike them, but they were a little too quirky.
The book is set on a small island off the coast of Wales, and Riggs' prose makes it easy to imagine the locals, scenery, and movement of life there. As Jacob attempts to solve the mystery of his grandfather's life and what he's inherited as a result, the view through Jacob's eyes is vivid. He finally does find Miss Peregrine (not a spoiler! why else is that the title?) and we learn the whole sordid tale behind the home for children and why they're peculiar. There's more to everything than it first seems, and it's revealed to us piece by delicious piece.
The story moves at a steady pace, not too fast or too slow, clear up to the horrifying and exciting conclusion. Riggs attempts to be twisty–and falls short of a plot twist–but it isn't totally predictable.
When Jacob was young, his grandfather told him all about the kids in the Welsh children's home he lived in after escaping pre-war Europe. Fun and well paced
The story behind Riggs writing this book is worth noting, as it's talked about at the back end of the book. He collects unusual vintage photographs, several of which end up in the book. They add an air of mystery and the bizarre. While I'd usually find the concept of writing a novel around a hobby as problematic–enthusiasm for a subject doesn't necessarily make one a competent writer. Fortunately for here, Riggs is a good writer with pretty prose and a focus what works in the story, not only adding a picture because he liked it even if it didn't work.
Tweens and teens and their parents will enjoy Miss Peregrine, Jacob, and all the peculiar children.
Recommended Age:

12+ it's a little dark for younger audiences

Language:

A handful of words, not particularly harsh ones though

Violence:

A gruesome scene with a partially eaten dead man (not too gory but gross nonetheless) and some peril

Sex:

A vaguely referenced affair and some teenage kissing
Note: EBR does not recommend this on Kindle, it's the pictures and letters that make this book, but they don't show well in the Kindle version.