Review: Firebrand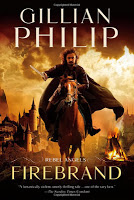 Amazon
Seth MacGregor is Sithe, and lives in their realm beyond the Veil, apart from full-mortals. Abandoned by his witch mother, he lives in his father's clan as an outsider, unruly and wild. He idolizes his older brother, Conal, who will inherit their father's captaincy of their dun/village.

Conal is loved by many, which draws the irritation of their queen, the beautiful but cruel Kate NicNiven. And when Kate exiles Conal to the human world, Seth chooses exile, as well.
In the human world it's the end of the sixteenth century, when superstition and religious upheaval lead to brutal witch hunts. When Conal and Seth draw the attention of a new priest in town, they decide to return to the Sithe and risk Kate's wrath. FIREBRAND (Amazon) surprised me because the cover looks like your average corny fantasy. Fortunately it's more than that. Tautly written, the prose is lovely yet not flowery. If you're a fan of Bernard Cornwell's Saxon Chronicles (if you love traditional fantasy, Cornwell's historical fiction series is worth reading) or even Mary Stewart's Arthurian series, FIREBRAND has the same feel–setting up the world and a people in a way that builds on each other.
The first person PoV character Seth is a complicated man. We follow him from his youth as he struggles to hold his own among a hard and warlike people. He's hot-headed, dark tempered, and utterly loyal to Conal. Philip did a great job portraying a young man in a culture foreign to ours, yet she was also able to make it feel real to readers. Seth's narration of those around him shows an ability to understand people, even if he doesn't like most of them.
FIREBRAND is a quick read that would be appealing to many different readers regardless of age and provides a great main character in Seth.
The differences between the Sithe and human worlds felt pretty basic, which is really my only complaint with FIREBRAND (hopefully this will be remedied with sequels)–although these differences are enough for now to make the prejudices between the people believable. The straightforward story moves between Seth's father's dun, Kate's underground court, and the human world, and it was easy to visualize the places and people.
The strength of FIREBRAND is Seth himself and the story of his life and how much his brother Conal influences it for the better. It's easy to see why Seth idolizes his brother and is willing to sacrifice his own well-being in order to follow him. A lot of the story does revolve around what Conal does, which made me wonder why Seth was the PoV narrator, but I'm willing to see where the series goes. They spend the story of FIREBRAND at the mercy of Kate and the world around them, until they finally take matters into their own hands in an exciting final chapter that turns their world upside-down.
FIREBRAND is a quick read and would be appealing to many different readers, teenagers and adults alike.
Recommended Age:

15+

Language:

A mere handful of instances

Violence:

Bloody battles, yes

Sex:

Implied and referenced but nothing on-screen