Review: Cold Fire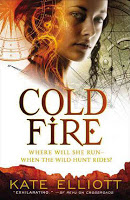 Amazon
After a daring escape from the mage house in COLD MAGIC (Amazon), Cat Barahal and her cousin Bee think they have found a sanctuary until a more permanent plan is made. Unfortunately for them, the general who has spent years in prison for trying to conqueror Europa is now free to try it again and plans to use Cat and Bee for his own purposes; Cat's estranged husband's mage house is hunting them down; and to top it all off Cat's mysterious biological father shows up to throw a wrench into everything.

Cat is, however, quick-witted and always seems to land on her feet–often running. And despite escaping the mages by using the spirit realm, she turns up somewhere completely unplanned.
This series is easy to love. Kate Elliott scoops up the reader right from the start. Poor Cat never seems to catch a break. She wants to be free to make her own decisions–who to love and marry, in particular. When her arranged-marriage husband, the arrogant, powerful mage Vai suddenly becomes part of her life again, she learns there's more to him than she first thought. As a result, COLD FIRE (Amazon) could be considered a love story. Fortunately it's so much more than that.
It's also about the magic, and not just cold magic but also fire magic and how they're more connected than first thought. How Bee's magic works. What Cat's entails. Elliott reveals layer upon delicious layer.
Cold magic, fire magic, estranged husbands, witty dialogue, romance...what's not to love about COLD FIRE? A fast, fun, and clever read.
It's also about this fascinating world Cat and Bee live in. It's an Earth that could have been, had magic not changed its landscape; but it's easy to tell that Elliott has done her homework about the era, she does her best to make it feel real. There are trolls and dragons. The land of the Fae is real. And, yes, the Master of the Hunt rides every year; and while he cannot be stopped, Cat will do her best to thwart him, because if she doesn't Bee's very life is at stake. You don't see as much steampunk like with the first book, and the locale is a whole new one to learn, which may frustrate those who loved MAGIC. But FIRE adds a depth to the world learned about in the first book, and is a nice departure from the typical Europe fantasy setting.
Cat as the first person PoV narrator is a clever woman with a witty tongue (this makes the dialogue fun to read) with a keen observation of her surroundings and the people in it. This prose is full of great metaphors without being heavy handed. At first Cat seems too smart, but it appears that it's her very cleverness that gets her into trouble; you won't always agree with her actions, but you know enough about her to understand why she does what she does. Vai is also a well-drawn character, with obvious flaws, but it's easy to see why Cat feels for him the way she does; Bee is a delightful character; and even the tertiary characters are colorful and interesting.
If you haven't read MAGIC, that's ok, because Elliott will get you up to speed efficiently and you won't feel lost, even if the plot can feel a little jumpy as we're whisked from place to place. While MAGIC is the foundation, FIRE is a continuation with its own plot and exciting resolution (and yes, even a little bit of a cliffhanger for this summer's release of the sequel, COLD STEEL Amazon). But FIRE is exciting and interesting enough that if you haven't read MAGIC, you will wonder what you're missing.
Recommended Age:

15+

Language:

Minor

Violence:

Some, but not gory

Sex:

Referenced and implied, but without detail