Review: Lightbringer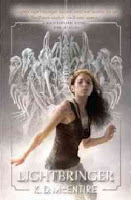 Amazon
LIGHTBRINGER (Amazon) is newcomer K.D. McEntire's first novel in a new YA series. It starts off with Wendy's twelfth birthday, and a terrible car accident that awakens her inherited latent ability–she's a reaper, and can help lost souls to leave limbo and find the Light. But she came into her powers too early, and learning the nuances of guiding the dead has come with a price.
By the time she reaches high school she's already reaped a thousand souls under her mother's strict tutelage. But during the summer mom was in an accident and lays comatose at the hospital while Wendy struggles with helping her dad with two younger siblings, a secret but increasing reaper load due to her mother's absence, and as a result her grades are slipping. Poor girl has no time just to be a regular teenager.

But something is wrong in the Never. A new evil is causing chaos among the dead and Wendy promises new-found friend Piotr her help. Even though he's a ghost and needs help moving beyond a limbo he's been stuck in for many centuries, she finds herself drawn to him, and to their surprise they can even touch. Then she asks for his help to find her mother's missing spirit, and figuring out what really happened to her.
Wendy is interesting as the goth teen with a sense of duty drilled into her by a now absent mother. As the primary PoV character, her voice carries the book; she can be snarky, but she's smart and her responsibility as a reaper has grounded her in reality much more than a normal teen. Piotr's PoV can be confusing, but it has great value in that we see the viewpoint of the ghosts, and how limbo isn't just haunting the house you died in. Unfortunately, when Wendy and Piotr are in the same scene their PoVs can get jumbled, which is confusing. Secondary characters such as Wendy's brother Eddie and sister Chel add depth to Wendy's life, and those involved with Piotr are are all well drawn and McEntire does her best to make them unique and recognizable.
But the most important person in Wendy's life we really don't see in the book: her mother. We see her in a few flashbacks, and Wendy talks about her a little bit. Unfortunately for the story we don't understand the real relationship between them even though it becomes vital to the narrative–and this little tidbit is what tipped the book into mediocre. In order for the entire novel to make sense I needed to understand Wendy's mother and their relationship much more than I did. Sure there are hints, but as a reader who likes subtly in a novel, even I think McEntire was too subtle.
LIGHTBRINGER is about Wendy, a teenager tasked with reaping souls in a world of ghosts that's more menacing that we'd expect.
Fortunately McEntire makes up for this failing with a world of ghosts that is much more menacing than we'd expect. Although all the details of life/death, and the exceptions to the rule aren't clear–mostly because Wendy still has a lot to learn–McEntire reveals the background and information steadily without overwhelming her potential YA readers. The plot tends to be a little predictable, and stumbles with the occasional flashback, but it's well paced with events that build on each other and lead to an exciting conclusion.
Easily the best part of the book is McEntire's delightful prose, with lovely imagery and details that really draw the reader in. And it's her prose, fascinating setting, and the engaging characters that will keep readers turning pages despite its flaws.
Recommended Age:

16+ for themes, language, and sexual references

Language:

Mixed, with a handful of the harsher stuff

Violence:

Scattered scenes with some blood and detail, but not gruesome

Sex:

Referenced frequently in crude teenage-talk