Elitist Classic: Startide Rising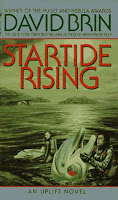 Amazon
DOLPHINS IN SPACE!
Doesn't that sound exciting? Don't you want to read that book right now?
OK I jest, but in all honesty if you have a problem with Dolphins crewing a starship and getting stranded on an alien planet than this book isn't for you.

Which is a real bummer because David Brin's STARTIDE RISING (Amazon) is an excellent book. The central premise of this classic is what really pulled me in to begin with.
The idea is Uplifting. Basically no intelligence in the universe (and there are tons and tons of different types of alien intelligence out there) is able to gain sentience on its own without being "uplifted" by another race. Dolphins then (as well as monkeys) are a race of intelligent beings only because we as humans gave them a little genetic push. The only race in the known galaxy to claim to have risen to sentience through evolution is mankind.
What a great idea. It's so cool and so teeming with possibilities. The plot for STARTIDE RISING is even more complex than that. The Dolphin (and some humans and monkeys) crewed ship Sunstreaker has crash-landed on a remote planet after having made an immense discovery. The crew and its ship are being sought after by various other races of the galaxy, and they need to find a way to survive and get the information they have back home.
Dolphins in space! Smart science fiction that doesn't disappoint. And this book spawned a whole host of others. Find out more in STARTIDE RISING.
Only that's not it either. There are internal stories, and then interesting (and very important) things happening with the planet they are on. There's another race of aliens on the planet. I could go on and on.
Guys, this is why I read Science Fiction. I'm a sucker for a big, thick novel with big ideas and cool galaxy spanning concepts. This book had it in spades. It's not an easy read, and it's certainly not for everyone, but it really hit all the right notes for me. It's why I consider it an Elitist Classic.
Recommended Age:

16+, as it's a tough, thick, read of a book

Language:

Not much, a word here and there

Violence:

Nothing too graphic, a few instances

Sex:

Mentioned a few times. There's a dolphin that has a crush on a human female that was both a little disturbing and pretty funny.