Review: Chicks Kick Butt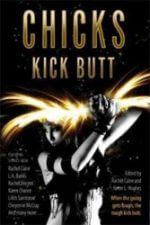 Amazon
Yeah, yeah, don't roll your eyes at me. The title CHICKS KICK BUTT (Amazon) sounds totally cliché and dumb and silly. But it's totally fun and entertaining. CHICKS is a short story compilation of several popular female Urban Fantasy authors—some you've heard of and some you haven't—and other than a couple of mediocre entries, is a solid group of stories. So let's get to it, shall we?

Shiny by Rachel Caine starts off the book with a story from this popular author's Weather Warden series. Joanne has weather magic, and her boyfriend David is a powerful Djinn. On an outing to the beach, they come across a photo shoot for a Bugatti Veyron—and the woman draped across it is none other than a new Djinn. David makes them stop to investigate her, as she's something of a troublemaker. And, of course, trouble ensues. One of the better stories in this compilation, the characters are interesting, the story moves quickly, and the situation and ending unfoldes unexpectedly.
In Vino Veritas by Karen Chance is about Dory—from Chance's Dorina Basarab series—a dhampir (child of vampire and human), and vampire hunter. A previous job with the Chinese mob has come back to bite her, and she must deal with the fallout. This selection is predictable, and in order to remember what it was about I had to go back and re-read it again, which is never a good sign, even if the first read through was enjoyable enough. In the end I wasn't really sure what it was about, it was a little convoluted, and as a result it was easy to dismiss.
Hunt by Rachel Vincent is about college student Abby, recently turned werecat. While on a campout with some friends, they're attacked, and Abby's secret is in danger of being revealed. Traumatized in her youth, Abby must deal with her fears in order to save her friends. Despite the steady writing and believable emotions, it was had to get the full effect in so short a story without feeling like I was being bludgeoned with Abby's emotional baggage. Still, it finishes well.
Monsters by Lilith Saintcrow is my favorite of the compilation. It's about Eleni, a vampire Preserver, with the special skills and abilities that involve protecting "what would otherwise be lost…[those] skilled in an art that would reach its highest expression when freed from the chains of mortality." When her charges are killed in an unexpected attack by humans, she must avenge their deaths. For such a short story, the worldbuilding was well written, and the characters interesting. While the ending leaves the larger story open for more, the conclusion is still satisfying. On her site, Saintcrow says she may write more about Eleni.
Vampires Prefer Blondes by P. N. Elrod is one of the few in this collection where the main character is completely human. Set from Elrod's Vampire Files series, this short takes place in the 1930s, and Bobbi is the headliner for a traveling act in the Chicago area. After one evening's show, a group of roughs come looking for one of her chorus girls, and it turns out a vampire is involved. The writing is slick—the main character's PoV is entertaining to read, gives a feel for the era, and makes me believe that even though Bobbi isn't trained to fight, she's still willing to help someone in trouble with the undead.
Nine-Tenths of the Law by Jenna Black is about exorcist Morgan Kingsley, who happens to be 'possessed' herself (not something she advertises on her business door). She's approached by worried parents who believe their wayward daughter is possessed illegally. Demons are allowed to possess humans who are of legal age and volunteer for it—there are some benefits, after all, to having a powerful spirit inhabit a mortal body. But there are fanatical groups who will do anything to rid the world of demons. An entertaining story, if a bit predictable. The characters are well drawn, and the world interesting without being overbearing. From the Morgan Kingsley Exorcist series, which is complete.
Double Dead by Cheyenne McCray starts off with a sort of glossary of terms, which I'm certain is hardly ever a good thing for a short story. It's about Nyx, part-human part-Dark Elf, whose Drow abilities make her day job as a PI much less dangerous than her night job as enforcer for the paranormal council. While main character Nyx is interesting, the story was a contrived confusion of motives and behavior that didn't make sense, and the ending action scene was gimmicky.
A Rose by Any Other Name Would Still be Red by Elizabeth A. Vaughan is the shortest of the stories, and the action scenes are exciting and fast-paced. Unfortunately, the result is that I never got a clear vision of the setting (is it medieval?), of the main character Red's abilities, and the point of the story.
Superman by Jeanne C. Stein is about a newly turned vampire. "Superman" has a prologue and even 'chapters', which results in a drawn-out story. I could handle an overlong short if it were tightly written, but it's not, and even worse it's cliché and overwrought. Skip it.
Monster Mash by Carole Nelson Douglas takes place in Las Vegas, where werewolves and vampires own and run casinos. Delilah, from Douglas' Delilah Street series, is called in to investigate the haunting of a local casino, and get rid of the problem if she can. She's human, but walks among the supernaturals with confidence. Douglas lays on the setting pretty thickly, so it's hard to keep up with all the lingo. But the fast-paced dialogue, clever mystery, and likable heroine make this story one of the top five in this compilation.
Wanted: Dead or Alive by L. A. Banks is about recently turned vampire Tanya, and the short opens with an overwrought woe-is-me monologue. Then we're launched into pre-story of Tanya's bounty hunter past, and her 'lucky' kill of master vampire Dimitri. As his killer she inherits Dimitri's wealth and the vamps he's turned; and today, a month later, we learn that other vampire masters want her dead. Her distaste of bloodsucking has turned her into an altruist who'll only kill the truly criminal. The story is contrived and feels unfinished.
The title CHICKS KICK BUTT sounds totally cliché and dumb and silly. But it's totally fun and entertaining and way too much fun to miss.
Mist by Susan Krinard is probably the most ambitious of the stories, with so much worldbuilding taken from ancient Norse mythology that the learning curve is a little high for a short story. An Earth-bound Valkyrie believes that the final battle is past…but is it? The action moves along at a steady clip, and by the end you're invested in the story and how it ends. And even though "Mist" feels more like the beginning of a novel than the other more self-contained contributions, it's an entertaining read.
Beyond the Pale by Nancy Holder is about Meg, former U.S. border agent, and now Fae border agent, due to her recently manifested second sight. But the battle with the Fae is not so much about illegal immigration as it is about keeping the Erl King from stealing children and replacing them with changelings. A fast-paced and interesting story, "Beyond the Pale" has magic and a cool Black Forest setting. PoV character Meg is a complicated woman; the writing does lack subtlety with her feelings and motivations, but the characterization was pretty good for a short. The ending wasn't what I expected, and I still have some unanswered questions, so I'm not sure if I'm satisfied with it—but at least it was memorable. Holder's site says she plans to continue this story in novel form, and if she continues on as she has here, it's easy to see the potential for a great series.
Recommended Age:

16+

Language:

Depending on the story, but most are relatively clean; a couple of them have a smattering of stronger profanity

Violence:

All of them have violence; some are stronger than others; almost all contain death, and some of them get very gory

Sex:

Mostly reference and innuendo; "Superman" and "Wanted: Dead or Alive" have graphic scenes