Review: Leviathan Wept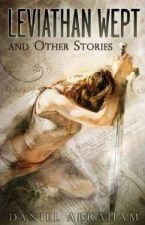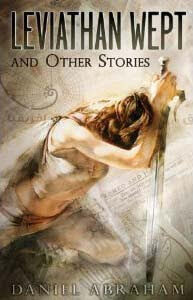 Amazon
Daniel Abraham is, quite possibly, my favorite author. It's awfully difficult to pick one amongst the masses, but he regularly goes head to head with my other faves (yes, even Ms. Parker) and so I can't help but place him amongst the elite. After reading his Long Price Quartet (Amazon), I've found it incredibly difficult to put my hands on another series of fantasy books I've enjoyed more. So naturally, when I heard that he was going to be releasing a short story anthology I was completely on board. Hook, line, and sinker. Does that mean that you should take this review with a grain of salt? Absolutely not. Please, if you will, follow me down this road of awesome, into the mind of a great. And though you need not swallow the gravy, it will certainly make the colors more magnificent.

I don't know if I can count the number of times that I've read about a "new author" that has finally made it onto the publishing scene only to quickly release a short story compilation with a bunch of mediocre, pre-publishable mess that scares off potential readers. This was certainly not the case here with Abraham's LEVIATHAN WEPT AND OTHER STORIES (Amazon), just released through Subterranean Press. Right off we get "The Cambist and Lord Iron", a hilarious piece about the value of things that made me both laugh out loud and think in silence. A great combination. Follow that up with "Flat Diane", a gut-punch of the horrific that deftly plucked the strings of my paternal instinct, which was made all the more intense by reading it immediately after "Lord Iron". These were both stories that I had consumed through online media prior to buying the anthology, but I still completely loved reading this time through.
One of the coolest things about this anthology is that there's something for everyone in it. Science-fiction romps about removing the switch in our mind that controls our level of attraction in "Best Monkey", or having the ability to remove from our physical perception certain individuals that we don't want to deal with in "Exclusion", showcase some of the great ideas that Mr. Abraham brings to the table. Woven throughout each of these stories are worlds colored by individual perception. Strong character is one of the reasons that I love Mr. Abraham's work so much. "Hunter in Arin-Qin" gives us the fear and self-recrimination of a single mother that has lost her child to a beast and the journey she makes with a strange, foreign hunter to reclaim what they both wish to regain. Then a woman in "As Sweet" struggles with the concept of monogamy when so much of what she teaches to her students, and feels in her heart, deals with passion and wild abandon.
The first time that I read through the book, I was surprised by the endings of most of them. I'd get there and say, "Hmm. Probably not where I would have ended that one." Yet despite this fact, I continued to think about those stories and what they were really about. On the back end, I'm quite impressed with where the endings landed me. The one that hit this most strongly was the title story, "Leviathan Wept". In it, Abraham posits the idea that as cells and neurons are a small part of what makes up us, so we might be a smaller part of something larger as well; and in the way that there is very little interaction between us and our neurons, even to the extreme that such neurons could not be cognizant of our own existence, so too might we not be cognizant of this larger thing of which we are a part. Like so many other science fiction stories, it pulls into it concepts and thoughts of deity, of that something that is greater than us, and what kind of interactions we have with it. Extremely interesting stuff.
One of the coolest things about this anthology LEVIATHAN WEPT is that there's something for everyone in it.
Now, did I like them all? Not the entirety of each individual story, no; though I do have to admit as to being pulled in by every single one. Mr. Abraham has a great way of telling stories and a keen eye as to the development of his characters. He cares for all of it, and it shows.
Before I go, I have to give you a vision as to what this guy is doing too. Not only can he write amazingly well, but he does quite a lot of it too. And he's not restricting himself to a single arena either. He's taking his ability all over the place, and I think that's a grand idea. The Long Price Quartet is done, alas. Man was it great. Go and buy this whole thing, as two omnibuses from Orbit, as soon as possible. Next up on the fantasy line? First book of five for The Dagger and the Coin, The Dragon's Path, is now being drafted and should be released from Orbit in mid-2011. He does urban fantasy as MLN Hanover: The Black Sun's Daughter series–two books done, a third near finished, and a fourth up and coming. Comic books? Yup. Writing for a couple of those too, one associated with GRRM's Wild Cards series. Science Fiction? Of course. Here he's James S. A. Corey with Leviathan Wakes, coming in mid-2011 from Orbit as well. And then there's the short stories. Always the short stories.
He's putting out for us people. Take advantage of this. You will NOT be disappointed by his work.
Recommended Age:

18+. Intense thematic content is what made the call here.

Language:

Yup. Not a ton, but it's there and can get fairly strong at times.

Violence:

Not really

Sex:

Some dialogue that ties into the Language content, intense themes associated with "Flat Diane" specifically
Daniel keeps a blog at LiveJournal and you can find some love for him at Orbit, his current publisher, as well.