Elitist Classic: Dracula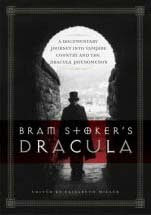 Amazon
Nick & Steve here in a brief intro. Hopefully you, our faithful readers, are enjoying our Elitist Classics Series. One of our new reviewers, Vanessa, thought it would be a solid idea to occasionally write up a brief review of some of the Classics. We loved the idea, so here is the first one…
***Elitist Classics: DRACULA***
Before there was Sookie Stackhouse and Bill Compton, before vampires that glitter in sunlight, before even Anne Rice or Brian Lumley, there was Count Dracula.

If you haven't read the original Bram Stoker novel, it's possible when you think of DRACULA (Amazon) it is that the Victorian era novel is a prudish old fashioned fuddy duddy that couldn't possibly still be relevant today.
You couldn't be more wrong.
Today's explosion of vampire novels, movies, and TV began somewhere, and it was with Bram Stoker's DRACULA. It wasn't the first vampire book ever published, even though it was written in 1897, but Stoker's folklore research mixed with adventure made it the most relevant. And although Stoker didn't invent vampires, it's his version of the undead that has captured the imagination of readers, authors, and screenwriters ever since.
Don't assume that because DRACULA was written in 1897 that it won't be scary or creepy, you'd be wrong.
Told in letters, journal entries, and newspaper articles, DRACULA begins with Jonathan, a young solicitor who visits the count in his crumbling castle in the Carpathian Mountains to help him purchase property in England. From the moment Jonathan arrives it's obvious that things aren't quite right, and too late realizes he's a prisoner.
The story is bizarre, which I expected. But I didn't expect it to be so creepy, since I had assumed that a Victorian novel read by today's audience couldn't be that scary. But it's the creepiness that draws the reader in to the horrifying predicament that Jonathan, his fiance, and friends find themselves in. Stoker's novel is worth reading alone for the story and its fascinating characters–doubly so because of the influence it's had on the vampire stories that came after it.
DRACULA is public domain, so it should be easy to find a cheap copy to purchase or else it's readily available at even small libraries. There are also several editions with commentary worth looking at.
If DRACULA is still too old for you, check out INTERVIEW WITH THE VAMPIRE by Anne Rice (Amazon), which was first published in 1976. You can thank today's crop of vampires-with-a-conscience on her; but it's also a fascinating first-hand account of what it really means to become the monster that is vampire. And, like DRACULA, the content is relatively tame (especially when compared to a lot of today's urban fantasy).
Recommended Age:

14+

Language:

Mild

Violence:

Your typical vampire staking and beheading, but nothing gruesome

Sex:

Some scenes could be interpreted as sensual, but on the whole the story is unexplicit and doesn't refer directly to sex