R.A. Salvatore Interview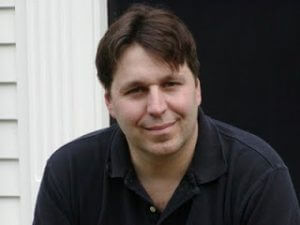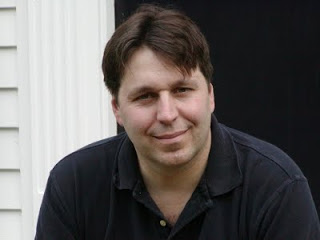 RAS: We were approached by Sara Easterly to do this interview at the same time as she asked us to do participate in Margaret Weis' blog tour. Needless to say, when R.A. Salvatore, much like Weis, comes-a-knocking for a tour, there is only one answer you can give. Of course! And when they say we can give away 5 free copies of Salvatore's latest novel, THE GHOST KING? Sounds like a deal for YOU! All you have to do is post a comment. So, without further ado, here you go:
EBR: We want thank you for stopping by our blog on this tour of sorts. Right out of the box, we want you to brag a little. We aren't exactly humble around here at Elitist Book Reviews, and we see no reason for you to feel like you have to be humble either. Don't pull any punches and don't be shy; tell us why you are so great.
Because the amazing people at Elitist Book Reviews want to interview me. They've actually taken the time to direct questions to me! Doesn't that say it all? Seriously, though, you've asked the wrong guy this question. It's not that I'm modest to a fault or anything "aw shucks" like that. It's just that I honestly keep looking over my shoulder, expecting the devil to come and collect his end of the bargain.
I don't know what works and what doesn't work, what to write and what not to write, on a logical, rational level any more than the next guy on the street. But I do think that I instinctively know the difference between Writing 101 ("The road to Hell is paved with adverbs!" "Show, don't tell!" "Don't change POV!" – in other words, all the typically cliché criticisms you can see on any message board or review site) and Writing 102. Writing 102 is simply understanding and believing that the English language is a set of tools, not rules. For example, take any college writing class and you'll be told that you shouldn't use adverbs to characterize dialogue, that the words spoken by the character should convey the way they're being said without the helper adverb (sarcastically, slyly, dryly, sardonically, etc.), and also that good dialogue needs no attribution. I argue that those "rules" missed the internet revolution. My readers, mostly younger folks, do a large part of their interpersonal communication on message boards and instant messaging and Facebook and such. Message boards without emoticons (adverbs) become flame wars, and all dialogue in such places is attributed. So while younger readers are far more sophisticated in some areas, such as multi-tasking and handling ten conversations at a time, and in extrapolating much more information from bare-bones sentences, they are usually less sophisticated in the areas that come from face-to-face communication. Sarcasm involves tonal changes and facial expressions; if you hear that and see that enough face to face, you will be more able to inject that properly into the dialogue in a book. If you're unsophisticated in that manner of interpersonal communication, however, the sarcasm flies right by without note. Class over.
Well, wait a minute, not completely. The other thing that I have going for me is that writing a book gives me the same feelings that most people get when reading a book. My own books constantly surprise me, and I find myself typing faster just to find out what the hell is going to happen. And when I'm writing battle scenes, I don't consciously shorten sentences, and don't go back through the scene with a shotgun, blowing out all incarnations of the passive verb "to be." No, I just get into the action, watching it in my head, my own pulse quickening as the characters go through the dance. And somehow – I have no idea how! – it works. In the end, I'm really lucky in that the way I tell a story seems to resonate with enough people to, well, get me interviews on blogs like Elitist Book Reviews. The style doesn't work for everyone, but that's okay, and that's why there are so many varied and successful storytellers in the world.
EBR: Some people (us included) would say that you are one of the stones in the foundation of Heroic Fantasy. Where do you see this brand of fantasy going over the next decade? How do you figure to be a part of it? What do you think fantasy readers, today, are looking for in their books?
RAS: I'm going to put these two questions together. Heroic fantasy, adventure fantasy, sword and sorcery – whatever you want to call it – has some common threads and themes that hold true. Sometimes they're not considered "cool," oftentimes they're considered cliché, but to me it's not about that. What I'm talking about here is the morality offered in the fantasy genre, the idea that good will overcome evil. Cool or not, cliché or not, that's a fundamental hope that sits in the hearts of most people. We want to believe in it – I do believe in it.
So whatever new races become the norm for fantasy (we've watched that happen with dark elves over the last twenty years), the idea that characters who do the wrong thing will be punished and characters who do the right thing will be rewarded is going to be reflected in heroic fantasy today and tomorrow. In other words, the trapping might change, but some basic truths will remain. The hero of tomorrow's books would fit into the heroic fantasy books of today.
Where will I fit in? Well, I'm past 50 now, but have no intention of fading away. Slowing down, maybe, but not fading away. I'm having too much fun with this, and learning so much about myself through my writing, that the road continues before me. I hope.
EBR: What book, that you wrote, did you learn the most from and what did you learn?
RAS: My favorite book is MORTALIS (Amazon), the bridge book between the two trilogies in my seven-book DemonWars series. I wrote that book while watching my best friend, my brother Gary, fading away from cancer. That book was my salvation, my catharsis. In its pages, through the character of Brother Francis, I came to terms with Gary's looming death, and to a large extent, with my own inevitable end.
The funny thing is, I never expected Francis to play a major role in the book at all. Up to that point, he had been the fill-in monk in the DemonWars series, the sort of major domo who was always in the scene when I needed an extra monk, but didn't want to create even more characters in an already huge cast. It wasn't until I had finished Francis's part in Mortalis that I even came to realize that I had told such a complete story of a flawed but ultimately heroic man. He taught me how to live, and how to die.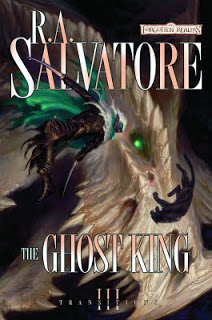 EBR: The Ghost King (Amazon) was released on October 6th, more than 20 years since The Crystal Shard (Amazon) was published back in 1988. What keeps you coming back to tell stories about Drizzt the Dark Elf and can we expect to see a separate original creation on the horizon?
RAS: The easy answer is that the readers want more Drizzt. No matter what I write, no matter whether I think it's as good or better than dark elf, my audience is for Drizzt, most of all. For a while, many years ago, this truth bothered me a bit. Certainly from a business perspective, things would have been more lucrative if I could just take my entire Drizzt readership with me wherever I chose to go, but that simply wasn't the reality. I was watching one of those "Behind the Music" shows on VH1, the story of John Fogarty, when I heard him talking about how he wouldn't play Credence Clearwater Revival songs for a long time after he left the band. But then one day he realized that it wasn't about him. It was about the people who came to see him, and they wanted to hear those songs. So he started playing them again. He's right. I feel the same way. So I came to terms with my ridiculous little gripe, and came to appreciate how lucky I was to have hit such a chord in so many people with Drizzt. I came to say, and believe, that I would write Drizzt for a long as people wanted to read Drizzt and as long as I was still having fun with him, I'm still having a blast. That doesn't mean I will be exclusively writing Drizzt, by any means, however. I love DemonWars, and I've got some more creations in me.
EBR: Once again, we want to thank you for taking the time to answer our questions. Any last comments you want to leave with us and our readers?
RAS: I go back to CS Lewis in reminding everyone that no one can determine the relationship between a reader and a book, except the reader of the book. The internet is a great place to discuss and argue about this book or that book, but find what you love, not what you're supposed to love.
Oh, and stop gaming every now and then and read a book!
****
The Important People(TM) who made this interview possible:
Wizards of the Coast: http://wizards.com/
R.A. Salvatore: http://www.rasalvatore.com/
Sara Easterly: http://www.saraeasterly.com/
****
The exclusive, seven-part interview series with R.A. Salvatore continues throughout the week. Be sure to check out these other stops on the blog tour:
Monday, 10.12.09
SciFiChick
SciFi Chick
Tuesday, 10.13.09
BSCreview
BSC Review
Wednesday, 10.14.09
SciFiGuy
SciFi Guy
Friday, 10.16.09
Sci-Fi Fan Letter
SciFi Fan Letter
Suvudu (7:00 to 8:00 p.m. EST)
Saturday, 10.17.09
Fantasy Book Critic
Fantasy Book Critic